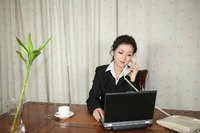 If one web calendar worked best for everyone, there would be no need for any others. The truth is, however, there are many types of calendars and each has a variety of features. Your choice of calendar software depends on your needs, circumstances and personality. You might select one your colleagues and co-workers use if you need to share data or you might opt for one with the features you need.
Google Calendar
Google Calendar is probably the best-known and most commonly used online calendar software as of 2011. Due to the popularity of Google's services and because of the integration with Gmail and other Google applications (apps), Google Calendar is used by many people for both business and personal purposes. In addition to being free of charge, it allows you to share your appointments with those on Google, as well as many who use other calendar software. Google Calendar also syncs with programs on both your computer and mobile phone.
Appointment Schedulers
Genbook, Divvy and Scheduly are examples of apps you can use to schedule appointments, especially with clients. You can allow current and potential clients to schedule appointments with you using the hours available on your online calendar. Divvy goes further by allowing you to set up a method for users to make a payment when they schedule an appointment.
Meetings and Collaboration
If you work in a collaborative way with co-workers and other business associates, you might be best served by programs such as Zoho, Jiffle, TimeBridge and TimeDriver. Like Google Calendar, these allow you to share your schedule and see those of your colleagues. Like Google, Zoho has other modules such as documents and mail that facilitate group collaboration. Jiffle integrates with the Google calendars of your co-workers and TimeBridge lets you invite others to a meeting and even hold an online conference.
Simple Calendar Apps
If you need something simple, Mixin and 30 Boxes are two excellent choices. Each is a combination calendar and to-do list. Both programs are well-suited to organizing personal schedules, yet they also have sharing and social networking features. Both Mixin and 30 Boxes let you share items on Facebook and Twitter. Mixin has easy syncing with other calendar software such as Google Calendar, iCal and Outlook. 30 Boxes lets you import and export items and events to other online services including Flickr, Live Journal and Blogger.
Well-Known Companies
If you're most comfortable using programs produced by well-known companies, you might consider Sunbird from Mozilla or Windows Live Calendar. The advantage of large companies is stability. You can rest assured their calendar apps aren't likely to disappear if the company falls on hard times.
Family-Oriented Calendars
If you need to organize your entire family's calendar and not just your own, two family-oriented calendars you might like are Cozi and Calendarfly. These calendars have many of the sharing and collaboration features in common with the others mentioned in this article, but they're created with features designed for schools and families with children. Calendarfly is created specifically for schools to share their calendars, but you can view individual calendars as well, making it a good match for your family if your children attend a school that uses this software. Cozi color-codes each family member's calendar items, so you can view appointments and events for each family member individually or for everyone at once.