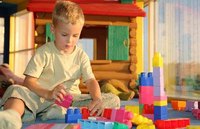 A marketing plan is developed by a business to identify its goals, what it wants to do and set forth tactics aimed to achieve these goals. For instance, a children's daycare goals may be to increase its enrollment by 10 percent throughout the next four quarters. This can be achievable through market analysis, business planning and instituting marketing tactics that position the daycare more squarely before potential customers. The marketing plan is a road map designed to help a firm achieve its growth related goals.
Plan Summary
A marketing plan should start with an executive summary. For a daycare center, describe the business in terms that identifies its mission and what makes it different as a service provider within its community. A daycare center's mission may be to focus on developing a child's social skills or creating a fun environment.
Current Position
Create a summary of the daycare center's current position. Include information on the daycare center's current children population, such as their age groups and family demographics. Provide comparative analysis of other daycare providers. This includes comparison of services such as hours, pricing and general accessibility. Note the child-care industry market trends in the targeted community. Conduct a SWOT analysis of the daycare center's current market position. SWOT is an acronym that is used as an analytical tool and represents Strengths, Weaknesses, Opportunities and Threats posed by a proposed strategy.
Marketing Strategy
A section addressing marketing strategies should be included in a daycare center's marketing plan. This includes clearly identifying the target market for services and tying this into prospective advertising outlets. This may include advertising in general marketing outlets such as the local Yellow Pages.
Niche market publications geared toward parents and working moms may provide a more targeted marketing match. Organizational alliance can also be instrumental in securing exposure to prospective customers. This includes partnering with local church organizations to offer parent education seminars.
Financials and Budgets
A marketing plan should include a treatment of financial considerations related to the executing a strategy. Provide a budget that lists all of the associated costs related to executing the daycare center's marketing strategy. In examining its resources, the daycare center may find that it must reduce other costs to fund the marketing plan. Financial overviews should include break-even analysis, sales forecasts and expenses forecasts.
Effective Measures
Develop time tables and milestones to measure whether the marketing goals' activities and tasks are being accomplished on time and within budget. Consult the initial SWOT analysis to identify and implement contingency plans for identified threats that could curtail marketing goals, such as financial restraints. If daycare services are not growing on schedule, for instance, a contingency plan to financing marketing efforts may be to liquidate certain equipment to cover necessary expenses.