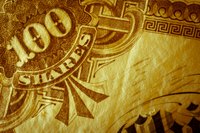 Capital structure refers to the way a company allocates its sources of funding between debt and equity. Capital raising is done using vehicles such as common stock, preferred stock, warrants or stock options, and various types of debt instruments. A wide variety of factors go into management's decisions regarding capital structure, Most are based on balancing the cost of capital with the perceived optimal capital structure.
Industry
Capital structure tends to be homogenous within industries. This is because the nature of a company's assets and operations often dictate the sources and amounts of capital that need to be used. For example, manufacturing companies tend to use higher amounts of fixed capital that is generally funded using secured debt. Meanwhile, service companies that rely on large pools of labor often employ lower debt financing but use stock offerings to fund ambitious growth programs while using stock options as incentives for prospective employees.
Financial Leverage
Financial leverage refers to the use of debt financing, which must be carefully managed. Debt financing is less costly than stock issuances, but as debt balances increase, the company's risk of default increases. Invested capital refers to the mix of both debt and equity. If a company can earn a higher return on invested capital than the cost of debt, it is advantageous to take on more debt. This means that the company can use more debt financing to generate cash flow, which can be readily returned to creditors while leaving excess cash flow that can be paid to shareholders.
Taxes
Interest expense on debt capital is tax-deductible, which can make it an attractive option for managers. However, as mentioned earlier, increased debt increases default risk and a host of other debt-related risks, such as credit and interest rate risk. Generally, a company will continue to borrow up to the point where the tax benefit maximizes company value relative to the additional probability of bankruptcy. Managers use the value of the debt tax shield as part of this analysis.
Cost of Equity
The cost of equity tends to be higher than a company's cost of debt. It is a riskier investment vehicle for funders, because in the case of bankruptcy, common stockholders stand at the bottom of the investor hierarchy in terms of liquidation preference. In some cases, a company's credit profile may be so high that it can attract lenders, in which case it has no choice but to issue stock. Other factors include investor demand for the company's stock.