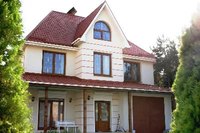 Real estate sales agents handle the buying and selling of real estate, which is a complex process and is often the largest purchase made by an individual in his lifetime. Employers prefer high school graduates, though many agents have at least some college training to understand legal and financial complexities. Employers often sponsor training courses. All states require licensing for the profession.
Average Salary
Real estate agents work more than the standard 40-hour week, often in the evenings and weekends for the convenience of their clients. However, they can determine their own schedules. Many also use communications and computer technology to work out of their own homes rather than at real-estate offices. Travel is frequent, because agents must go on-site to examine properties, prepare them for sale and show them to customers. Their median salary was $40,100 yearly, with a range of $20,800 to $96,410, according to the Bureau of Labor Statistics (BLS) as of May 2009. This breaks down to $19.28 hourly, with a range of $10.00 to $46.35.
Employers
The biggest employers of real estate agents are real estate offices and brokers, with over 35 percent of the available positions. They paid a mean $26.32 per hour or $54,740 per year. The second biggest employers were real estate lessors, with over 22 percent of the positions, paying a mean $22.15 per hour or $46,070 per year. The highest paying employers were other professional, scientific and technical services other than consultants. They offered a mean $46.03 per hour or $95,740 per year, but only had 80 positions.
Locations
The state with the best pay for real estate agents is Vermont, with mean wages at $41.13 per hour or $85,550 per year. However, it contains only 150 positions. New York State is among the top five for pay with mean salaries at $36.78 per hour or $76,500 per year, and more employment with 12,180 jobs. The city with the best pay is Burlington, Vermont, at a mean $45.86 per hour or $95,390 per year for 60 positions. Also among the top five is Charlotte, North Carolina, with compensation at $42.84 per hour or $89,100 per year, but with higher opportunities at 1,350 jobs.
Future Work
The BLS sees jobs for real estate agents growing by 16 percent from 2008 to 2018, which is faster than the national average for all occupations. The increases will come from population growth, especially among young adults who are buying their first homes. Unfortunately, the profession is tied to the economy. When times are bad, fewer people buy homes and many agents become unemployed.