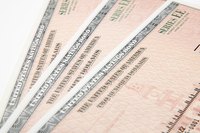 A standard 401(k) or mutual fund typically contains some cash. However, when investment professionals talk about cash accounts they are not referring to the type of accounts you establish at your local bank. In the investment arena "cash" usually means cash equivalents such as money market funds. These types of investments serve a particular purpose and are subject to specific rules.
Cash Equivalents
In broad terms, a cash equivalent is a low-risk security that can quickly be exchanged for actual cash. Short-term federal bonds with a duration of six months or less are regarded as cash equivalents. Treasury bonds are low risk because the federal government backs these debt instruments. Better still, short-term bonds are not subject to the kind of price fluctuations you may experience with multi-year bonds. Short-term bonds issued by major corporations fall into the same category, assuming the firm in question remains on a solid financial footing. Bank-issued certificates of deposit are another type of cash equivalent. You can buy and sell CDs on the open market and these federally insured instruments expose you to minimal levels of risk.
Money Market Funds
While you can buy individual cash equivalents, many investors choose to buy shares in money market mutual funds. As with any mutual fund, a money market fund contains a wide variety of securities. However, while standard mutual funds contain stocks and bonds, money market funds contain cash equivalents. As a shareholder, you can redeem your shares for cash at any time. Additionally, you earn share dividends or interest derived from the securities held within the fund. As such, money market funds work similarly to the money market savings accounts you can set up through banks.
Purpose of Cash Equivalents
Investors often use money market funds and cash equivalents to park their money during market downturns. Such funds offer principal protection while other funds containing stocks or bonds are likely to drop in value when the market crashes. Even during good economic times, many individual and institutional investors keep a certain amount of money in cash equivalents as a hedge against a possible downturn. However, safety comes at a price, because cash equivalents offer minimal levels of return when compared with other more volatile types of securities such as stocks.
Breaking the Buck
Cash equivalents such as bonds have a set face value, while money market funds have a target value of $1 per share. In theory, shares prices should never deviate from the $1 mark. However, during 2008, shares in some funds "broke the buck" and dipped below this threshold. At the time, the United States was enduring a severe recession that caused a wide variety of securities to plummet in value. The Treasury department tackled the money market issue by temporarily guaranteeing money market shares. This prevented investors from losing money if funds dropped in value. The temporary guarantee has since expired but federal rules were tightened in 2010 and again in 2013 to ensure cash equivalent money market funds only contain highly liquid, low-risk securities.