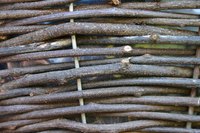 If the prospect of fencing your property has you thinking about a second job, you may want to consider an old-fashioned, yet feasible, option. Wild grape vine fences date back to the settlers who would create beautiful woven fence designs using grape vine as the raw material. Grape vine has proven itself to be a worthy fence material that is capable of withstanding time and weather while still looking impressive.
Characteristics
Meandering your way through the woods, you may notice thick, curly, rather aggressive vines that seem to overtake surrounding vegetation. Wild grape vine shows no mercy as it attaches to anything within its reach. Flexible, yet strong, grape vine displays the dexterity of a ballerina combined with the endurance of a marathon runner. Grape vine grows rapidly in almost any conditions and is predominant in wooded areas. Grape vines are beneficial to animals, providing food and shelter but can also become a problem if allowed to overtake an area.
Harvesting
For fence building, medium-sized grape vine works best. The vine is flexible but still strong enough to make a durable fence. Harvest only in the fall and pick only those vines that are overtaking other vegetation. If you go to a public location, such as a park or forest, ask permission before harvesting the vine. Use a small handsaw to cut the grape vine as close to the ground as possible. It will require some pulling to get the grape vine untangled from other vegetation so bring a friend when harvesting.
Construction
Several options exist for constructing a grape vine fence. It is best to start with an outline of the area to be fenced, noting all existing landscape features and underground utilities. Fence posts are usually placed not more than 3 feet apart and can be made of any sturdy lumber. After placing the fence posts, the grape vine can be woven between the posts in any desired pattern. A tight weave will create more stability than a loose weave. Loose grape vine ends are tied with jute along the fence line.
Upkeep
Wild grape vine is naturally durable and weather resistant which minimizes maintenance. Deer and other animals like to nibble on grape vine, especially when other food is scarce. Pieces of the fence line may need to retied or re-woven or replaced. Keep extra grape vine on hand for these occasions.