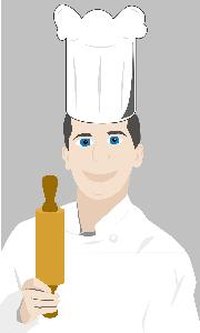 The road to becoming a master chef at a dining establishment typically involves moving up through the kitchen staff hierarchy, from line cook through various specialty chef positions, sous or assistant chef and finally executive or master chef. The salary of a master chef will depend on the industry in which he works and the location in which he lives.
Salary
The average salary for a master chef or head cook in the United States is $44,240 as of May 2009, according to the Bureau of Labor Statistics. The salary scale ranges from $22,860 to $69,560, with $40,090 as the median salary.
Common Industries
The industry with the highest level of employment of chefs is that of full-service restaurants, which offers an average annual salary of $41,750. In the industry of traveler accommodation, the average income for master chefs is higher at $50,880, while in special food services the average is $45,340. The industry of limited-service eating places offers the lowest salary average at $33,850, while master chefs in amusement and recreation industries earn higher-than-average wages at $53,120.
Higher Salaries
Master chefs can seek higher wages in other industries, though jobs are more scarce. Working for grocery and related product merchant wholesalers brings in an average annual income of $56,280 for chefs, while those working for business, professional, labor, political and similar organizations earn $57,050 annually. In the industry of accounting, tax preparation, bookkeeping and payroll services, master chefs can earn $62,740, and those employed by the federal executive branch earn $63,310. The industry of the management of companies and enterprises offers master chefs the highest wages at $67,070 annually.
Location
The location of a restaurant or business will affect a master chef's salary. Those in the New York City metropolitan area earn the highest wages in the country at $80,940 annually, followed by Ithaca, New York, at $67,990 and Naples-Marco Island, Florida, at $61,380. New Jersey is the highest-paying state for master chefs at an average annual salary of $59,120; Rhode Island and Connecticut follow at $56,120 and $54,480, respectively.