An associate's degree in nursing requires a high school diploma for entry and combines classroom work with practical simulations and laboratory skills. Courses cover such subjects as anatomy, physiology, pediatric nursing, pharmacology, nutrition, chemistry, microbiology and communications.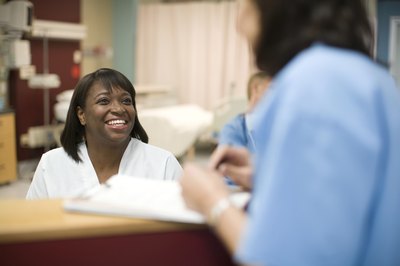 Jobs
Job title primarily determines salary for nurses with associate's degrees. Registered nurses in emergency rooms earn the most at a $24.80 to $33.53 per hour. Registered nurses who take care of patients make a median $21.87 to $30.14 hourly. Certified nurse assistants, who assist nurses with routine tasks, get $9.21 to $11.97 per hour. This information is from the PayScale Report as of February 2011.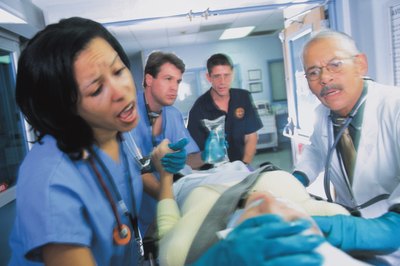 Experience
Nurses with associate's degrees earn higher salaries as they gain experience. New nurses, for example, earn a median $21.03 per hour, while those with one to four years of work get $22.57. At five to nine years of employment, they receive $25.75, and at 10 to 19 years, they make $28.67. Finally, at 20 or more years of service, they are paid $30.89.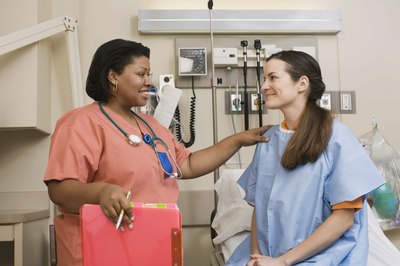 Employer
Those nurses with associate's degrees who are self-employed earn the highest wages at a median $31.33 per hour because they are free to pick and choose employers. Compare this wage with those under contract, who earn $31.08, and those in hospitals at $26.48. The federal government pays $24.10, while those in state and local jurisdictions get $23.80. Those in schools and school districts get $20.50, and those at colleges make more at $27.24.
Locations
High populations mean more potential patients, which equal more opportunities for nurses with associate's degree, and higher salaries. For example, California, the most populous state in the U.S., has a median wage of $34.17 per hour, followed by the second most populous state, Texas, with pay at $26.62. Michigan is third at $25.86, followed by Illinois at $25.46. For cities, Chicago, the country's third most populous metropolis, has the highest wage at $29.42 per hour, followed by Houston, at $29.27.