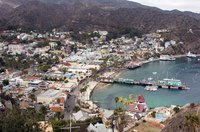 The definition of "romantic" is subjective. In California, if your tastes lean towards the posh and/or the eclectic, you're in luck. Celebrate your wedding anniversary in a Victorian Hollywood playground, on an island just offshore or in the historic heart of a seaside town.
Southern California Historic Properties
Head to the beachfront Hotel Del Coronado on Coronado Island and you're in the perfect spot for a romantic sunset stroll. The 125-year old Victorian-era property, a National Historic Landmark, is just as famous for its clientele as it is for the red-shingled turreted roof. Charles Lindbergh, Marilyn Monroe, Charlie Chaplin and several US Presidents are just a few on that clientele list. The Spa at The Del offers special Journey for Two massages and body treatment packages.
The Queen Mary in Long Beach offers a romantic overnight stay in a floating museum. Part of the celebrated liner was converted into a hotel. Stay in a First-Class Stateroom, dine at Sir Winston's Restaurant -- once the ship's dining room -- and take a lake night tour in search of ghosts. Take a romantic stroll along the deck after the day visitors have gone.
Madonna Inn, San Luis Obispo
The Madonna Inn in San Luis Obispo sits off Highway 101 about 180 miles north of Los Angeles. The secluded property's claim to fame is its creatively designed rooms. The Romance Room, for example, has Victorian décor and a raised bed area. The Love Nest is a picture in red French-style furnishings. It has a vaulted ceiling, and hearts and love birds are a big part of the décor. If you want something more down to earth, try the Kona Rock room, complete with rock walls and a stone fireplace. Dine at a number of onsite restaurants, play golf, go horseback riding or get pampered at the spa.
Avalon, Catalina Island
Catalina Island is so romantic it has its own song. "26 Miles Across The Sea" bills the place as the "Island of Romance." Avalon is the only town on the island, a Hollywood hideaway since before World War II. The Inn at Mt. Ada, on a hill overlooking the city, was once the home of William Wrigley Jr., founder of Wrigley's Chewing Gum. Now a six-room bed and breakfast, each room is elegantly appointed and has its own balcony and an ocean view. Room rates include a full breakfast, evening appetizers and use of your own golf cart. Cars are rare on Avalon because the island limits their importation. Most residents get around on foot or in golf carts. Getting to Catalina means hopping on a passenger ferry, taking a helicopter or sailing your own boat over. Ferry and helicopter service is available out of Long Beach and Dana Point.
Monterey Bay Area
Stay about a block from Lovers Point at the Seven Gables Inn, on the border between Monterey and Pacific Grove. Lovers Point is a small, rocky peninsula with its own sandy beach. Built in 1886, the Victorian mansion sits right across from the Pacific Ocean. A wall of windows lines the period style dining room, serving full breakfast every morning and hosting wine tasting sessions each afternoon. Rooms are also furnished in Victorian style, and each has at least a partial ocean view.
Another romantic option is the Spindrift Inn, on the beach in the heart of Monterey's Cannery Row. Each room has a fireplace, hardwood floors, a marble bath and oversized beds with overstuffed comforters. Ocean and city view rooms are available and some feature balconies. The best views are from the rooftop garden which is open to all. Rates include breakfast delivered to your room on a silver tray and the daily wine and cheese reception in the lobby. Just outside your door are the shops, restaurants and pubs of Cannery Row, along with the Monterey Bay Aquarium.