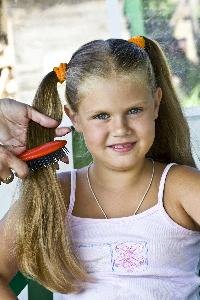 The types of training options for becoming a cosmetologist vary as much as the duties you will someday perform. With the exception of shampooers, all other duties require some level of training and/or experience to secure a license to practice from the state in which you live. How much this will cost depends on the school you select, the type of training the school provides and whether financial aid options are available.
High School Vocational Programs
If you are still in high school and your school offers vocational programs, check into whether cosmetology training is available. If so, you may be able to complete all your training either at no cost, or for only the cost of supplies. Depending on the depth of the program, high school vocational training may fulfill all your state's eligibility requirements, enabling you to start working in the field immediately following graduation.
Apprenticeship Training
The least expensive post-high school route to becoming a cosmetologist is to find a salon in your area that offers an apprenticeship program. While the state in which you live will determine specific training requirements, they will most likely include some type of formal instruction such as classes you can take at a local community college. If your employer agrees to pay for the cost of the classes, your total investment may be only the amount you pay for supplies.
Vocational School Training
Vocational school training provides the least expensive formal training option but possibly longest route to becoming a cosmetologist. Coursework and hands-on training cover basic skills such as skin care, hair cutting, coloring, curling and straightening, as well as nail care, salon management and communications. Program requirements may also include subjects such as computer applications, business math and chemistry. Vocational programs follow a school year calendar that results in a program encompassing 1,000 hours and about two years in length. As of 2011, you can plan on a total cost of about $3,000 per school year and an additional $300 to $800 for supplies, for a total of about $6,300 to $6,800.
Specialty School Training
Attending a school that specializes in areas of cosmetology will significantly increase the cost of becoming a cosmetologist. In return for increased tuition costs, coursework may include additional topics and offer instruction in wiggery, facials, hair removal, make-up and basic massage. Although your program may also include additional hours of instruction, most are complete in about one year. As of 2011, you can plan on a tuition cost of about $14,500, and another $1,400 to $4,700 for supplies and books, for a total cost of $15,900 to $19,200.
Considerations
You can reduce the cost of becoming a cosmetologist by attending a school that offers help in the form of scholarships and/or financial aid. While any school can offer payment plans, scholarships and provide resource information for applying for financial from private sources, only schools that receive Title IV accreditation can offer federal aid.