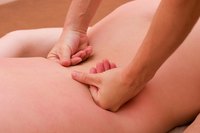 Physical therapists, or PTs, help people recover from injuries or physical limitations caused by illness. They use a variety of therapeutic and exercise techniques to accomplish this task. Physical therapists need extensive education and training to legally work as physical therapy professionals. The Bureau of Labor Statistics expects much faster than average job growth in this field between 2008 and 2018.
General Education
Becoming a physical therapist requires the completion of a graduate degree at the master's degree level or higher. The path to becoming a physical therapist starts, however, with the completion of a bachelor's degree that includes the right mixture of general education coursework and electives to provide students with the prerequisite courses needed for physical therapy school. General education courses generally include courses in areas like speech and communication, English, math, history and both physical and biological science.
Bachelor's Degree Courses
Although there is no specific required major for a career as a physical therapist, those planning to get into a physical therapy graduate degree program should consider pursuing a degree in a related field like exercise science, kinesiology, physical education or some specialty within the health sciences like nursing. The bachelor's degree curriculum should consist of a wide variety of coursework in both the physical and biological sciences. A strong background in math and statistics can also be helpful for those who intend to pursue physical therapy research.
Master's Degree
It is possible to break into the physical therapy field with a master's degree, but as the Bureau of Labor Statistics notes, the majority of physical therapy programs are doctoral level programs. Nonetheless, physical therapy students can choose from one of 12 accredited physical therapy master's degree programs nationwide, as of 2009. These programs are accredited by the Commission on Accreditation of Physical Therapy Education (CAPTE). The master's degree program in physical therapy can usually be completed in two to two and a half years.
Doctorate
The most common entry-level degree in the physical therapy field is the Doctor of Physical Therapy or DPT degree. The Bureau of Labor Statistics notes that the Commission on Accreditation of Physical Therapy Education accredited 200 of these programs at the doctoral level, as of 2009, compared to the 12 master's degree programs. One minimal difference between the master's degree and the doctorate is the length of time to complete each. The doctoral degree typically only takes three years to complete, unless students need to complete additional prerequisite courses.