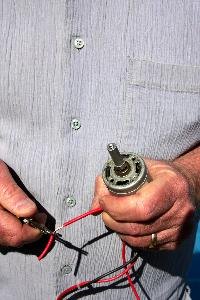 Electrical apprenticeships, like apprenticeships for other professions such as plumbing, combine occupational, on-the-job training with formal classroom instruction. Apprentices normally work with journeymen electricians who have completed their apprenticeships and are certified. Although apprentices are paid while in training, they usually receive about half the pay of journeymen. Although some apprenticeship programs in the U.S. are offered strictly through colleges and institutes, most in Massachusetts are sponsored through the International Brotherhood of Electrical Workers (IBEW). Apprenticeships are competitive, so preparing yourself before applying is critical.
High School
Any electrical apprenticeship program is going to require certain minimum criteria. If you know while you're in high school that you want to pursue a career as an electrician, you can get a leg up on the competition for an apprenticeship. All apprenticeship programs have a high school diploma or GED as a minimum requirement, so that's the first step. But while you're in school, make sure to take and pass algebra (with as good a grade as possible). Also take other math and science classes (physics is a good choice) and enroll in any electrical or electric shop classes offered.
Electrical Training Schools
Enrolling in an electrician training program at a community college or accredited training institute would provide you with a solid background for an apprenticeship. While apprenticeship programs don't require such formal training (they'll provide similar training of their own), having a diploma, certificate or even an associate degree would boost your chances of securing an apprenticeship and put you far ahead of the curve. If you're waiting for an opening for an apprenticeship (a good possibility considering the competition for slots), you could take electrical classes while you wait, even if you have no designs on obtaining a degree. There are a couple dozen technical schools in Massachusetts that fit the bill.
IBEW Apprenticeships
Contact an IBEW union local and inquire about apprenticeship opportunities. The largest IBEW local in Massachusetts is Local 103, which works in conjunction with the Greater Boston Chapter of the National Electrical Contractors Association (NECA). The Greater Boston JATC (Joint Apprenticeship and Training Committee) works with more than 200 major electrical contracting firms and employs more than 5,000 workers in the greater Boston area. The organization offers apprenticeships in the forms of a five-year electrical construction program and a four-year telecommunications program. To apply, you must live in the greater Boston area, possess a high school diploma or GED, be 18 years old and have a passing grade in algebra. You also must score high on the required aptitude test.
Outlook
The U.S. Bureau of Labor Statistics estimates that job growth for electricians is expected to be on par with the national average for all occupations through 2018. The bureau also reports that electricians with video wiring, voice and data experience enjoy the best prospects. Nearly 700,000 electricians were employed in the U.S. in 2008, with about two-thirds working for contracting firms. About 9 percent were self-employed.