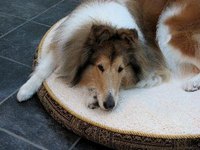 Working as a veterinarian isn't the only career related to animals, even though it's the highest-paying one. Although they don't pay as well, there are several other careers related to animals for animal lovers to choose from.
Zookeeper
Zookeepers earn a median salary of $14 an hour, as of 2011, according to State University. Zookeepers prepare diets for animals in the zoo and bathe the animals. Some animals are fed during the day, while other animals can only be fed at night because they are nocturnal. Zookeepers also clean and disinfect the cages of the animals. Employers prefer candidates with an associate's degree or bachelor's degree in fields like animal science and zoology for entry-level jobs. However, some zookeepers get jobs by starting as a volunteer at a zoo and working their way up the ranks. If a zookeeper wants to work in a zoo that's operated by the federal or local government, he must pass a civil service examination. Most zookeepers enter the field of animal care because they love working with animals. Zookeepers don't have a particularly glamorous job but often love what they do.
Veterinarian
Approximately 60,000 people worked as veterinarians in the United States in 2008, according to the Bureau of Labor Statistics (BLS). To become a veterinarian, you must acquire a Doctor of Veterinary Medicine from a four-year veterinary college. There are 28 colleges that are accredited by the American Veterinarian Medical Association in the United States. The median annual salary for veterinarians in the United States as of May of 2008 was $79,050, according to the BLS.
Dog Trainer
The median annual salary for animal trainers as of May of 2008 was $27,270, according to the BLS. College degrees are not required to become a dog trainer, but many get certification through national organizations like the K-9 Dog Trainers Association. Some dog trainers work for large pet stores, but many run their own businesses and have private clients. If you love dogs, a career as a dog trainer is an option for you.
Animal Cruelty Investigator
Animal cruelty investigators earn approximately $31,000 a year, according to Simply Hired. Animal cruelty investigators often visit homes where cases of animal cruelty have been reported. If the allegations turn out to be true, the animal cruelty investigator will take the animal from that home and transport it to a nearby shelter. Animal cruelty investigators also feed starving animals they find and free animals trapped in cages within homes.