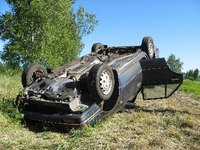 Forensic engineers bring their expertise to a variety of legal cases, such as those involving traffic accidents, fires, airplane crashes and building and bridge collapses. For example, they may help reconstruct vehicle accidents to help investigators determine the cause of the crash. Unlike most forensic scientists, who use scientific expertise to help police solve crimes, forensic engineers focus mostly on civil legal matters. For their efforts, forensic engineers earn salaries similar to those earned by other engineering professionals.
Identification
Forensic engineer is not a separate job category in the U.S. Bureau of Labor Statistics' system for classifying jobs. However, the BLS collects data on earnings for forensic science technicians, a category that includes all professionals who apply scientific methods and knowledge to legal matters. Bureau data for 2009 indicate that forensic science technicians employed by engineering and architectural firms, the employers of many forensic engineers, earn an average salary of $59,320 a year.
Types
The salary of a forensic engineer may depend in part on the engineer's expertise. BLS data for 2008 reported average salaries for a range of engineering specialties, including chemical, civil, electrical, mechanical and materials engineers. Annual salaries ranged from $74,600 for civil engineers to more than $84,000 a year for chemical engineers. In a 2009 article on careers in forensics, the BLS reported that salaries for forensic specialists are generally similar to those in the larger profession. For example, a materials engineer with forensic expertise will likely earn a salary similar to that of other materials engineers.
Considerations
The wide range of engineering specialties makes it difficult to estimate the average salary of a forensic engineer as a sole category. The website Forensic Science Colleges reports that a forensic engineer who specializes in accident reconstruction can earn between $40,000 and $62,000 a year, while an industrial engineer may earn about $73,820 a year.
Requirements
Becoming a forensic engineer requires at least a bachelor's degree in an engineering field, such as mechanical, chemical, civil, electrical, industrial or one of the many other specialties. The Forensic Science Colleges website reported that engineers who specialize in forensic matters do so after accumulating years of experience in a specific area or by earning an advanced degree.