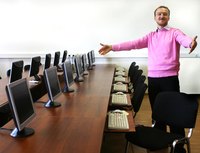 As the job market tightens and companies increasingly turn to online job boards for convenient broadcasting of available job positions, businesses are faced with hundreds or thousands of resumes, applications and cover letters for just a handful of positions. One of the valuable tools in screening candidates is employment aptitude testing. Learn more about employment aptitude testing to determine whether it could streamline or improve your company's hiring processes.
Purpose
Employment aptitude tests help employers determine whether a job candidate is an appropriate fit for their company. By evaluating candidate responses to questions, employers can efficiently compare a candidate's profile to desired characteristics for workers to fill the available position. Candidates whose responses don't meet the profile requirements for ideal employees are eliminated from consideration. Those individuals whose responses seem like a match for the company's values are invited to an interview or other advanced steps in the hiring process.
Types
Employers choose from different types of employment aptitude tests to evaluate candidates. Prospective employees can be tested for communication skills, interpersonal skills and staff management skills by answering questions about decisions they would make in hypothetical work scenarios. Employers can also learn about job candidates' customer service styles and budget skills. Other tests measure vocabulary, math skills and familiarity with technology or equipment associated with your company's field. By answering personality-related questions on employment aptitude tests, potential employees also reveal their competitiveness level, motivation for working, work ethic and assertiveness.
Benefits
One benefit of employment aptitude tests is that they provide an objective measurement of job candidate traits to augment more subjective evaluations made by interview screeners. Particularly charismatic or personable job candidates might make a strong impression during in-person interviews, obscuring negative traits or professional weaknesses that crop up in aptitude tests. Screening out unqualified employees or employees who don't share the same values as your company saves money in the long run. You save the cost of training employees who leave on their own or are terminated because of value conflicts and problems completing assigned responsibilities. Test results also bolster hiring decisions in the event that disgruntled candidates who've been passed over take legal action on the grounds that they were unfairly disqualified.
Drawbacks
Using employment aptitude tests has its drawbacks. Cost can be a problem, especially if you're outsourcing employment aptitude testing to companies that charge high fees. Aptitude tests work better with candidates who feel comfortable taking tests, putting well-qualified candidates who have test-taking anxiety at a disadvantage. Other desirable job candidates might resent submitting to a personality test, particularly tests that ask questions about drug use, workplace theft and other negative traits. These candidates feel that it's implied that employers suspect them of having these negative traits.