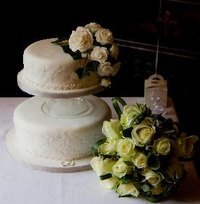 Whether you're interested in becoming a wedding planner or coordinator, or you need to hire one, chances are that you have seen the two titles used interchangeably. While both offer services to help couples pull off the big day without worries, they serve slightly different roles in the planning process. It's vital to understand the services a wedding professional offers before getting into the details.
Wedding Planner
Wedding planners work with clients through each detail of the wedding planning process, from choosing a venue to managing relationships with vendors to keeping brides calm on the day of the wedding. As such, couples typically hire wedding planners at the very beginning of the planning process so that their expertise may be put to use as the couple makes decisions.
Wedding Coordinator
Wedding coordinators generally take on many of the same duties as a wedding planner, but coordinators typically start later in the process after the couple has made decisions. A coordinator's job is to ensure that the plans the bride and groom have made are carried out accordingly. They oversee the coordination of the contractors and vendors so that the couple and their families don't have to worry about these details as the big day draws closer. The Knot's Wedding Channel recommends that brides and grooms discuss their expectations with the coordinator to ensure they line up with services he provides.
Day-of Coordinator
A day-of coordinator works on the wedding day only to ensure that everything operates according to schedule. The day-of coordinator's responsibility is to see that nothing interrupts the bride and groom's vision of their big day. Sometimes, wedding planners offer day-of coordinator services as an additional service.
Considerations
Although wedding planning and coordinator services may be viewed as a luxury, many brides and grooms find them to be a necessity. People who work full time, have family members and friends coming in from different parts of the world or those who don't have loved ones able to contribute time to the planning process may benefit from employing the services of a wedding planner. Wedding planners and coordinators may even help lower the cost of a wedding since they generally have long-standing relationships with vendors with whom negotiations are possible.