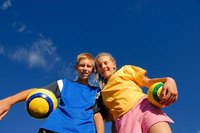 Many organizations that give grants know that sports can teach young people crucial skills like self-discipline, perseverance and the ability to work as a team. Grants often help to make sports more accessible for young people. For example, they can provide crucial funding for urban sports programs that keep kids out of trouble while teaching the importance of friendly competition.
Sports Leagues
Grant seekers should look for grants from professional sports leagues that play the same sport. The U.S. Soccer Foundation supports school and community youth soccer programs, funding field construction, coach training, equipment purchases and related costs, particularly for programs that reach disadvantaged youth. Programs must request the amount of funding they need. Major League Baseball sponsors the Baseball Tomorrow Fund, which gives grants averaging $50,000 to youth school and community baseball programs. USA Football gives a total of over $1 million of funding to youth sports organizations across the country each year for equipment purchases.
Government Agencies
Government agencies also contribute funds to these programs. The National Recreation and Park Association and the Centers for Disease Control and Prevention have an ACHIEVE Healthy Communities program that gives grants to communities for projects that help communities become healthier, like physical fitness programs.
Foundations
The Finish Line Youth Foundation gives to youth athletic programs and camps. Funds may be used for scholarships that help kids to attend the programs, for renovating facilities or for implementing special programs and projects. The Good Sports nonprofit foundation helps youth athletic programs to purchase necessary equipment. Grant seekers must specify the amount of funding needed when they apply. Local foundations often fund youth sports programs in their city or region as well. For example, the New York Community Trust makes grants of $5,000 to $10,000 in the five New York boroughs for this purpose.
Corporations
Corporations give to youth sports teams to increase their own visibility and help the public to think more favorably of them. Liberty Mutual gives an award called Responsible Sports Community Grants of $2,500 for youth sports programs. Nonprofit community programs or school-based programs may apply.