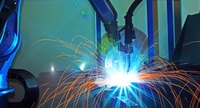 Robotics engineers create the devices and robotics equipment used in manufacturing processes. The education program for robotics engineering encompasses elements of mechanical and electrical engineering. A robotics engineer designs and maintains robots for a wide variety of industries including mining, manufacturing and agriculture, according to the Princeton Review. A robotics engineer also works in research and development to determine the potential uses for robots.
Undergraduate Degree
Those preparing for a career in robotics engineering can complete a bachelor's degree program to qualify for a position. According to Education-Portal.com, a bachelor's degree program in robotics combines classroom training and laboratory work to provide the student with hands on experience building, designing and maintaining robotic equipment.
Course Requirements
Robotics engineering programs include courses in mechanical and electrical engineering. The program also includes courses in computer science, theory of robotics and industrial robotics. Students in a robotics program also complete courses in advanced mathematics and physics. An undergraduate degree in robotics engineering prepares a student to enter an advanced degree program or a career as a robotics technician working in quality assurance or testing.
Advanced Education
After a bachelor's degree program in robotics, engineers can pursue an advanced program in robotics engineering. A master's degree program offers students with an undergraduate degree in computer science or engineering an opportunity to explore robotics engineering. Students entering a graduate degree program may be required to have an undergraduate degree in engineering or computer science.
Certificate Programs
Students in an undergraduate program in engineering may complete an undergraduate certificate program in robotics to supplement the engineering education. Graduate certificate programs are available for students who have completed an undergraduate degree program in engineering as well. According to Education-Portal.com, undergraduate and graduate certificate programs include courses in robotics, intelligent control, robot design, mechatronics and control systems. Electrical or mechanical engineering students completing a graduate certificate program are qualified to work as a robotics engineer.