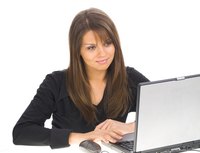 Legal administrative specialists work in legal settings such as law firms and courts as well as state, local and federal governments. They provide support to legal teams and ensure legal offices run smoothly. Legal administrative specialists can also be called paralegals, legal secretaries, administrative assistants and executive assistants. The salaries of legal administrative specialists vary depending on their employment setting.
Administrative Support
Legal administrative assistants work under the supervision of attorneys and other legal staff. They help prepare legal paperwork for submission to the courts. Many of these specialists also perform legal transcription or complete writing and editing projects for legal cases. According to the U.S. Bureau of Labor Statistics (BLS), as of May 2008 legal administrative assistants earned an average yearly salary of $39,860. The middle 50 percent earned between $30,870 and 50,930 per year.
Paralegals
Paralegals and legal assistants are employed in a variety of industries and legal settings. They assist attorneys with case preparation including legal research, writing and fact investigation. Paralegals and legal assistants also prepare documents, draft pleadings and file motions with the courts. They earn reasonable wages depending on the size and location of the law firm or legal setting. According to the BLS, paralegals and legal assistants earned an average salary of $46,120 as of May 2008. With additional education and experience, some paralegals and legal assistants earn more than $73,450 per year, states the BLS.
Clerks
Law clerks primarily investigate the facts of legal cases to determine how attorneys will proceed with upcoming cases. They also perform administrative functions including draft and brief preparation, document maintenance and project management. According to the Occupational Information Network, law clerks earn an average of $38,390 per year. Salaries of law clerks vary by geographic location and experience.
Training and Advancement
Legal administrative specialists are trained on the job, in vocational schools, and colleges and universities. They are taught the fundamentals of the legal field including legal terminology, client confidentiality and various elements of the law. According to the BLS, job growth in the legal administration profession is projected to increase by 18 percent through the year 2018. Specialists who have a bachelor's degree or higher and those who possess legal certification have the opportunity to advance to supervisory positions and earn higher wages.