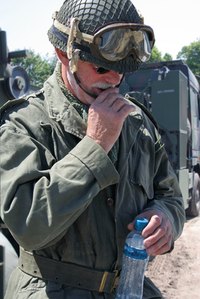 There are a number of government programs for veterans that will help you buy a home. If you have been honorably discharged from service, have reasonable credit and an income, you will likely qualify for a home loan guarantee from an agency for veterans affairs. One option will be the U.S. Department of Veterans Affairs and its VA home loan program. Another option may be your state department of veterans affairs, such as the California Department of Veterans Affairs CalVet program.
Programs
The VA home loan program and the CalVet home loan program are both options to make a mortgage more affordable for military veterans. With a VA loan, the program is not extending the loan itself. Instead, the government agency is offering security on a private loan you have secured. Because the agency offers this security, often called a guarantee or insurance, you will receive better financing terms and more accessibility to mortgages. With the CalVet loan, the department is the lender. This means you will receive a loan directly from the CalVA, and they will set standards for credit and income.
Eligibility
Eligibility for either the VA loan or the CalVet loan will depend in part on your credit and loan history. In both instances, if you have defaulted on a loan from the organization in the past, you will not be eligible immediately. For the VA loan, your eligibility depends on your status with the U.S. Armed Forces. You must be either active duty or honorably discharged. For the CalVet loan, there are similar requirements. You will face the same service requirements and you must also be a resident of California intending to purchase a home in the state. However, since the CalVet loan is direct from the CalVA, you will face more credit requirements directly from the department with this option.
Benefits
The key benefit to a VA or CalVet loan is the financial assistance it provides. First, you will have lower down payment requirements. VA home loans can reduce a down payment requirement to just 3.5 percent. You will also have a guaranteed fixed interest rate with both loans. This means your payments will never go up unexpectedly. The VA home loan program offers streamlined refinancing in the future, but the CalVet program precludes refinancing.
Process
To obtain either a VA loan or a CalVet loan, you will need a copy of your DD214 (Release from Active Duty) in order to qualify. If you are still on active duty, your military ID will suffice. Next, you can go straight to the VA or the CalVA in order to obtain an application. You will receive a verification of your eligibility for the loan program within a few weeks. Both programs require a separate appraisal and inspection to ensure the home meets basic requirements. With a CalVet loan, you will need to sign a Contract of Sale with the CalVA, and you will further need to meet requirements for safety and insurance.