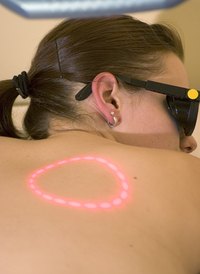 Estheticians, or skin care specialists, fall into a larger category of personal appearance workers. Their goal is to make the skin look more appealing. Some estheticians opt to concentrate in laser techniques that are suitable for procedures like hair and scar removal. These estheticians can expect a salary of between $30,000 and $40,000.
Industry Data
The Bureau of Labor Statistics is recognized as the leading wage and salary resource in the United States. It doesn't provide data specifically for laser estheticians, but does provide information for all estheticians. This data is a good starting point for estimating laser esthetician wages. The BLS claims that, based on 2009 information, skin care specialists make an average annual wage of $31,990, or roughly $15.38 per hour. Those in the lowest 10th percentile make $16,310 a year, or $7.84 hourly. Those in the 90th percentile, the top earners in the industry, make $51,490 a year, or $24.76 an hour. Overall, pay for the industry rose 1.7 percent between 2008 and 2009.
Average Wage
The SimplyHired website provides an estimate specifically for cosmetic laser technicians. According to this source, the average wage is $35,000 a year as of 2011. This is well within the range provided by the BLS for skin care estheticians. The fact that the estimate is above the industry average is not surprising, as laser treatment is a subspecialty of the industry for which certification is available — certified estheticians tend to make slightly more than non-certified estheticians. The Skin Science Institute of Laser & Esthetics adds that wages for starting estheticians usually are less than for those with experience, and that esthetician wages increase the longer an esthetician is with one employer.
Variance by Sector
Different employers pay estheticians different rates. According to 2009 data from the BLS, the best sectors for estheticians include general medical and surgical hospitals ($39,910), offices of physicians ($38,020), offices of other health professionals ($37,320), other amusement and recreation industries ($37,180) and drug/druggist merchant wholesale companies ($35,470).
Variance by Location
Laser estheticians may improve their salary by living in states that pay high rates. The BLS states that, based on 2009 information, the best states and territories for compensation in the skin care specialist industry are Washington ($38,650), Colorado ($38,340), California ($37,900), Kansas ($37,350) and Minnesota ($36,790). The worst states and territories, by comparison, are Mississippi ($20,260), Indiana ($22,710), Pennsylvania ($22,890), Puerto Rico ($23,270) and Georgia ($23,390).