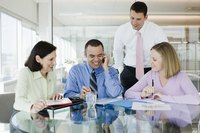 Whether one team member drags into meetings 15 minutes late or another one dominates every discussion, you may often find that the greatest challenge of serving on a team can be dealing with other team members. Decide on teamwork ground rules ahead of time to decrease the wasted time and recurring conflicts that can occur without agreed-upon guidelines. Then, you have laid the groundwork necessary for successful achievement of group goals.
Attendance
Decide on guidelines for attendance and timeliness to group meetings. Take time during the first meeting, if possible, to determine group policy on lateness or absenteeism. For example, members may agree to notify the team facilitator or leader at least one day in advance of the meeting if they will be late or absent.
Conflict
Commit to dealing with conflict in open and productive ways. When faced with conflict, each member should try to see the perspective of those they oppose. Take time, as well, to listen to one another and to collect the data necessary to understand the issue more fully. Then, seek a resolution that creatively addresses the concerns of those involved.
Consensus
Determine ahead of time that members will support the team's consensus once it is reached. Bad-mouthing or second-guessing team decisions can undermine unity and cause unnecessary conflict. Instead, decide that members will support decisions both inside and outside the group.
Commitment
Discuss the commitment of each individual member to the unity and success of the team. Team members, for example, may commit to not blaming one another for team shortcomings but instead work together to seek improvement. If individual members do at some point struggle to meet their responsibilities, other members may offer support in appropriate ways.
Confidentiality
Agree on the confidentiality necessary for group unity and success. For example, you may determine that all discussions and decisions of the team will be kept confidential until a time agreed upon by all group members. Choosing to keep team matters confidential until after the completion of the project, or even longer, can help to reduce the potential for conflict, both inside and outside the group.
Decisions
Decide on the group's decision-making process. Agree together on how decisions will be made by the group as a whole. Melvin L. Silberman, in "The Consultant's Toolkit," recommends a decision-making process that includes stating the problem, discussing different ideas, examining the benefits and risks associated with different approaches, and selecting an approach everyone can support.
Distractions
Agree on ways to minimize internal and external distractions. Team members should agree to forgo conversations during meetings that are not directly relevant to the discussion at hand and that cannot be shared by all team members. Members may also want to discuss how to avoid external distractions or interruptions, such as by choosing an appropriate meeting place and agreeing to turn off electronic devices during meetings.
Participation
Consider how members should participate in meetings. Members, for example, may agree to show respect for one another's opinions and feelings. Members may also commit to contribute regularly to discussions, to take turns with other members, and to listen respectfully when other members share.
Preparation
Discuss how members should prepare for each meeting. Distributing an agenda ahead of time can help members make necessary preparations. For example, you may assign specific types of data collection to specific group members so that all the needed information has been gathered in time for the meeting.
Reassessment
Reassess ground rules for the group on a periodic basis. Michelle LaBrosse, in "Cheetah Project Management: The Fastest Way to Reach Your Goals," recommends adding or deleting new rules when necessary. If a new member joins the team, she advises that new ground rules should be created if the new member does not agree with the already established ones.