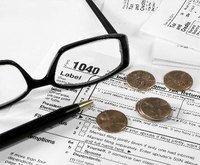 Many workers hold onto their primary employment for the security of a regular paycheck or to maintain benefits while working as an independent contractor as a second job. While your self-employed income is subject to income and self-employment taxes, withholdings from your first job may help shoulder the tax burden.
Self-Employment Tax Basics
If you earn more than $400 as a self-employed worker, the Internal Revenue Service requires you to pay the self-employment tax on those earnings. This tax supports Social Security and Medicare and is equivalent to withholdings you would have paid on wages. The tax basis for the tax is 92.35 percent of your earnings, meaning you calculate the tax owed using 92.35 percent of your overall earnings. As of tax year 2010, the total self-employment tax rate is 15.3 percent, with 12.4 percent for Social Security and 2.9 percent for Medicare withholding. For example, if you earn $1,000 in self-employment income, your tax basis is $923 ($1,000 0.9235), and your total self-employment tax is $141 ($923 0.153).
Income Tax
Self-employment tax and income tax are two different taxes, so you're also liable for income taxes earned as a self-employed worker. This isn't separated from your other earnings, however, and is figured along with all other forms of taxable income. Depending upon your withholding rate, the income from your primary job and the amount of money you earn as a self-employed worker, the income tax withheld from your primary paycheck may help defray this tax burden if you typically received an income tax refund, that overpayment will be applied to the income tax due from your independent-contractor earnings.
Aditional Withholding from Paycheck
You can resubmit a new W-4 to your employer and modify your withholding rates if you want to pay extra FICA withholding and payroll tax on each paycheck you receive. Estimate the amount of net income you expect from your second job, and calculate the self-employment tax you'll owe on that amount — earnings 0.9235 0.153 — and divide that figure by the number of paychecks you receive a year. If you want additional income taxes withheld, calculate that figure using your estimated earnings, income tax rate and the number of paychecks you receive a year. Combine the two figures, and enter than into Line 6 of your new W-4. Don't worry if you over-estimate your withholdings. The IRS will return any overpayment to you as a refund after you file your taxes.
Estimated Payments
You may also elect to contribute to income and self-employment taxes using estimated income tax payments. You make these payments quarterly, and base them on the previous three months' self-employment earnings. Calculate your self-employment tax on your earnings using the method described above, and your income taxes based on your appropriate tax bracket. Submit this payment to the IRS using a Form 1040-ES.