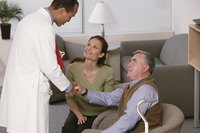 The government-run health care program known as Medicare is actually a collection of programs, each with separate guidelines about what is covered and how much people have to pay out of pocket. However, the medical care that people receive doesn't always fit neatly into one part of Medicare or another. That's why the system has a number of special rules that apply to billing. One of these is the three-day rule, also called the 72-hour rule, that applies when a person receives outpatient care and is then admitted to a hospital.
Part A vs. Part B
The 72-hour rule stems from the differences between Medicare's "Part A" and "Part B" components. Medicare Part A covers inpatient treatment in a hospital. Most people on Medicare don't have to pay premiums for Part A. Medicare Part B covers outpatient treatment and preventive services. If you want Part B coverage, you have to pay a monthly premium for it. Out-of-pocket costs also differ significantly between Part A and B. In general, Part B requires patients to pay more money themselves. As a result, while most people enrolled in Medicare have both Part A and Part B coverage, several million have only Part A as of 2015.
When the Rule Applies
Under Medicare billing rules, the 72-hour rule applies when a patient is admitted to a hospital after having received outpatient treatment at that hospital or at a clinic or other facility wholly owned or operated by that same hospital. If the outpatient treatment was received in the three calendar days before the patient was admitted to the hospital, then the hospital must combine the outpatient and inpatient services into a single inpatient bill. In other words, both the outpatient (Part B) and inpatient (Part A) bills will be treated as Part A inpatient expenses.
72 Hours vs. Three Days
Because the "window" for bundling outpatient services with an inpatient hospital stay is defined starting as three calendar days before the admission date, this rule is commonly referred to as the 72-hour rule. In reality, though, it can be longer than 72 hours. Say you're admitted to the hospital at 8 p.m. on a Friday. The window for outpatient services includes the three calendar days prior to your admission, plus the day of admission. Three full days plus 20 hours on Friday means your window was really 92 hours.
The One-Day Window
The three-day window applies only to so-called Subsection (d) hospitals. However, most general-purpose, short-stay hospitals are Subsection (d) hospitals. Psychiatric, rehabilitation and children's hospitals typically do not qualify as (d) hospitals, nor do long-term-care facilities and those that specialize in cancer treatment and research. Non-Subsection (d) hospitals have only a one-day window for bundling Part B and Part A expenses on a single bill.