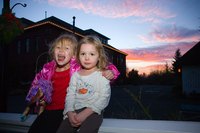 Both parents have a responsibility to financially support their child. When they divorce or separate, the noncustodial parent maintains that obligation by paying child support. Chapters 12 and 14 of Title 9 of the Arkansas Code set forth how the amount of child support is determined, as well as when the support obligation terminates.
Support Orders
A court sets the child support amount based on the owing parent's income and the number of children in need of support. The state uses guidelines issued by the Arkansas Supreme Court that set forth actual support amounts. For example, according to the 2007 guidelines, a parent who earns a net income of $600 per week owes $154 per week to support three children.
Automatic Termination
Arkansas statute AC 9-12-312 and 1985 Arkansas Supreme Court decision Towery v. Towery state that a parent's child support obligation terminates when the child graduates from high school or turns 18, whichever is later. The law does not require a parent to support the child while she is enrolled in college.
The owing spouse does not need a court order to stop making payments. However, if payments are being deducted from the parent's income, the parent must send notice to: 1) his employer; 2) the custodial parent; 3) the Clerk of the Court in the county where the support order was initially issued; and 4) the Office of Child Support Enforcement (OCSE). This notice must be submitted by certified mail and must affirm that the child has reached the age of majority and that no past due support is owed.
Exceptions
A court can require that child support continue after a child turns 18 years of age. If the child has a disability that prevents him from living an independent life and requires him to live with the custodial parent, both parents should share the financial responsibility of providing for the disabled child. The court can extend the child support order indefinitely in order to make sure the child is provided for.
Past Due Support
Even if the parent's continuing obligation terminates, when he owes past due support, called arrears, he will be required to pay it in full. Arkansas law permits an accrual of 10 percent interest per year on all past due support. OCSE will continue to use several enforcement methods to collect any arrears owed. This includes wage garnishment, seizure of tax refunds or lottery winnings, suspension of licenses (driver's, professional and recreational) and criminal prosecution. OCSE is permitted to enforce a child support order for up to five years after the child's eighteenth birthday, when the obligation terminates.