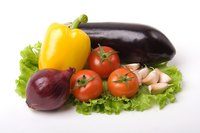 Raising vegetables is cuts down on grocery bills while ensuring the natural, fresh produce. However, garden pests threaten these crops. Companion planting is an organic alternative to chemical pesticides. By growing the right flowers alongside vegetables, pests can be kept at bay.
Geraniums
Originating in South Africa, geraniums grow in many of colors, allowing gardeners to choose from lavender, red, pink, fuchsia, white and multicolored varieties. Geraniums take the form of small plants or climbing vines and can be used as companion flowers in gardens, protecting vegetables from predators. The Golden Harvest Organics website recommends growing geraniums with tomatoes, corn, cabbage and peppers, as the flowers ward off cabbage worms and beetles.

Marigolds
Unlike many flowers, marigolds emit an unpleasant scent. Their pungency keeps some garden pests at bay. Seeds of Change recommends planting marigolds alongside vegetables to keep the soil free from nematodes as well as many insect varieties. Marigolds can attract slugs, so consider taking extra steps against them.
Nasturtiums
Nasturtiums have small blossoms, which bear a resemblance to buttercups and grow in shades of white, orange, yellow and red, often with a bright-gold center. The flowers are edible and have a peppery taste that makes them a popular addition to salads. Gardeners can plant nasturtiums to ward off pests like beetles, aphids and squash bugs, keeping their vegetables safe from harm.

Petunias
Some petunias are hardier than other varieties, so make sure the type selected is well suited to growing in a vegetable garden. An annual flower, petunias bloom in the spring and last until the arrival of the first frosts. The flowers repel aphids, leafhoppers and Mexican bean beetles. Tomato growers should also consider planting tomatoes by their vines as they ward off tomato worms as well.