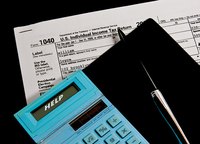 Self-employment taxes are levied on individuals working for themselves. Owners of LLCs pay such taxes because their work counts as self-employment, while shareholders of S corporations do not. Instead, S corporation shareholders working for their businesses have part of their salaries taken to pay for similar taxes, while their businesses pay for the rest. LLC owners pay 13.3 percent, while S corporation shareholders who work for their businesses pay 5.65 percent and the company pays the other 7.65 percent.
Self-Employment Tax
As the name indicates, self-employment taxes are levied upon people who work in their own businesses. Such taxes are intended to pay for Medicare and Social Security, essentially the same purpose as the payroll taxes levied on people working for employers. Individuals must pay self-employment taxes if their income from their employment exceeded $400 for the year, or $108.28 for the year if they were working as church employees.
LLC and Self-Employment Tax
LLCs are businesses that offer their owners both the legal protections of corporations and the single taxation income of proprietorships or partnerships. Individuals who own LLCs are more similar to partners in a partnership than the shareholders of a corporation, and they count as self-employed for the purposes of paying self-employment taxes. The self-employment tax rate for LLCs in 2011 is 13.3 percent, with 10.4 percent going to Social Security and 2.9 percent going to Medicare.
S Corporation and Self-Employment Tax
Owners of S corporations are counted as shareholders of a corporation rather than partners in a partnership. As a result, shareholders who work for the S corporation do not count as self-employed and thus do not pay self-employment taxes. Instead, their contributions to Social Security and Medicare are taken out of their paychecks. Such individuals pay 5.65 percent in such taxes with 4.5 percent going to Social Security and 1.45 percent going to Medicare. The employer pays another 7.65 percent, with 6.2 percent going to Social Security and 1.45 percent going to Medicare.
Comparison of LLC and S Corporation
The question of whether LLCs or S corporations are better for the self-employed individual is dependent upon the specific policies of the business in question. On the one hand, a LLC owner can deduct half of the self-employment taxes that he has paid from his adjusted gross income and thereby lower the amount of income tax he will have to pay. On the other, S corporation owners can choose to pay lower Social Security and Medicare taxes by deciding to take smaller salaries and larger dividends. In general, though, S corporation owners will pay less in taxes for Social Security and Medicare than their LLC counterparts.