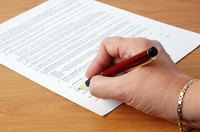 Employment contracts come in many forms; these agreements can be either written or verbal. Many states have at-will employment, meaning an employer can fire an employee for any reason without notice. Some employment contracts can nullify at-will employment by the addition of provisions requiring employers to have specific reasons for termination. Employment agreements may include provisions for a set salary and dates upon which an employee will receive raises. Other employment contracts prohibit employees from performing specific acts.
Exclusive Employment Agreements
Exclusive employment contracts are typically agreements in which an employee promises to refrain from seeking employment with another company. Often, exclusive employment agreements include provisions prohibiting an employee from gaining employment in the same field or with a company that makes similar products or offers similar services. Companies that require employees to sign exclusive employment agreements typically do so to receive total commitment from employees.
Non-competition Agreements
Non-competition agreements prohibit an employee from gaining employment with a competitor business for a specified period of time after resignation or termination. Typically, employers are prohibited from having non-competition agreements that are broader than necessary to protect a legitimate interest of the employer's business. Additionally, non-competition agreements must not be in derogation of the right of an employee to practice his trade or profession to earn a living; non-competition agreements generally cannot be in derogation of the right of the public to receive valuable services.
Confidentiality Agreements
Confidentiality agreements--known also as non-disclosure agreements--involve promises by an employee to keep "proprietary" information secret. Proprietary information is typically a trade secret or protected information relating to business methods. Often, confidentiality agreements require a party to the agreement to keep proprietary information secret after resignation or termination. Confidentiality agreements usually contain provisions forbidding an employee to share information regarding patents, customer lists, financial information and/or business methods and strategies.
Other Employment Contract Provisions
Choice of law clauses in employment contracts require employees to submit to the employer's choice of jurisdiction. Employment agreements with choice of law provisions typically state that laws of a specific state will apply in the event a lawsuit is filed, even if said lawsuit is filed in another state. Employment agreements may contain arbitration clauses, which prevent parties from seeking resolution of a dispute through litigation. Arbitration is often carried out in private with attorneys serving as mediators.