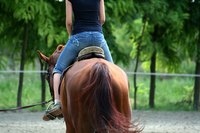 If you have experience with horses and a passion for helping people, consider becoming a therapeutic riding instructor. Through this career path, you will empower children and adults with disabilities. Riding horses can give those with disabilities a sense of control and freedom, and the chance to do an activity they truly enjoy. This is a healthy way to improve self esteem and quality of life.
The Basics
The North American Riding for the Handicapped Association (NARHA) certifies therapeutic riding instructors and works to promote this type of therapy, linking people with disabilities to instructors. Instructors can gain certification at the Registered, Advanced or Master level, or pursue a special certification in driving or vaulting. Driving means riding in a cart behind the horse, and vaulting means performing a variety of movements not considered standard in horseback riding. Horseback riding can improve strength, balance and flexibility, and vaulting can more intensively strengthen these qualities.
Registered Level
At the Registered level, instructors can conduct basic horseback riding lessons for people with disabilities safely, says the NARHA. The NARHA specifies that prospective therapeutic riding instructors should be at least 18, have CPR and first aid certification and must apply for NARHA membership. During Phase I of the training, they study from home and take two online exams. During Phase II, they complete hands-on training. Prospective instructors must finish and record 25 hours of practice teaching, under the supervision of a qualified professional. They also take a two-and-a-half day workshop and an on-site certification test.
Advanced Level
Advanced level instructors can safely provide more challenging and therapeutically beneficial lessons to students who are ready to move beyond the basics, although they are not deemed experts, says NARHA. These instructors have gained Registered level certification and completed 120 hours of work, and they must be at least 21. They must have completed at least one NARHA training course in the past two years, and submit their resume, references and application along with the application fee. Further, they must take a written exam and test in person at a certification site.
Master Level
At the Master level, instructors are qualified to train other instructors and are considered experts in therapeutic riding, says the NARHA. Master instructors can assess whether students are ready to progress to advanced activities, and can safely guide students in these activities. Master level instructors must be at least 25, hold Advanced level certification, have at least 400 hours of teaching experience and have been an NARHA instructor for a minimum of two years. They must also belong to another equestrian organization. To gain certification, they must submit a letter of intent, references from mentors, resume, cover letter, application, case reports about riders they have worked with, videotapes and analyses of their riding and teaching abilities, and several other required forms.
Careers
Some therapeutic riding instructors work from their own facility. They need to have a safe, fenced-off riding arena with level footing and calm horses that are safe for beginner riders. Instructors often work at other people's facilities, too, marketing their services to equestrian centers and boarding stables. The NARHA website posts job listings related to the field. Some of these are live-in positions, while others are part-time positions that instructors commute to (see References 1).