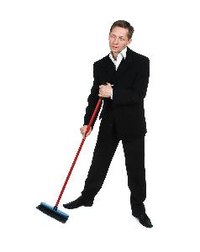 Accurately pricing your janitorial service business does not mean undercutting the prices of your competitors. Price wars and low profit margins may not be the most effective method of ensuring your longevity and profits in business. While you can use a low price strategy, you must evaluate your pricing based on your service market, resources and objectives. Selecting the right pricing strategy can help increase your customer base, expand the reach of your services into new markets and maximize your profits.
Penetration Pricing
Price your janitorial services lower than the average for your area if you are new to the market. This pricing strategy artificially sets your price points lower to quickly gain market share, new clients and new cleaning contracts. Once you have built a customer base and you have proven your dependability and cleaning service value, you can increase your prices. Raise prices for new customers first to test the reception to the higher price points without alienating your current customers. If the new prices you set are acceptable, raise your prices for existing customers when their contract renews.
Economy Pricing
Focus on offering the lowest prices in the market for basic cleaning services. This pricing strategy focuses on price conscious customers who need minimal cleaning services. For example, customers may request less frequent cleanings or fewer cleaning methods or processes. Supporting an economy pricing model requires you to closely monitor your expenses for cleaning supplies and employee overhead. Marketing and any unnecessary spending should be eliminated in order to maintain a profit margin while offering low-cost janitorial services.
Premium Pricing
Offer the top of the line premium janitorial services in your market. Customize your services to the exact needs of the customer and provide exemplary employees, cleaning product and comprehensive services. Consider including services such as deep carpet cleaning, floor buffing, polishing, recycling services or any other function that sets your service menu apart from your competitors. Price your services higher to reflect the extra services you are providing. The goal with this strategy is to attract a higher-level clientele who are willing to pay a premium. While you may not have as many clients with this pricing strategy, you should earn more off of each contract you service.
Bundle Pricing
Create janitorial service bundles that will provide a variety of options for your customers. Consider offering a low-price basic services bundle, a routine services bundle and a premium service bundle. Offering bundles rather than individual services can help increase the average price point per customer, even at the economy rate. Bundles can include a specified number of routine cleanings along with some extras like spot cleaning or mid-cycle cleaning to help boost the service level and make the bundles more appealing.