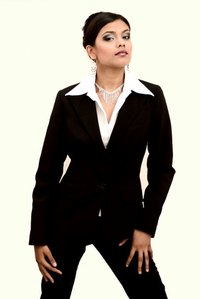 Training to be an image consultant can a period as short as two weeks. But it takes much more to reach the master certification level with the Association of Image Consutants International. The London Image Institute is one international image consulting training organization sanctioned by the AICI. It holds classes in England, Asia and the U.S.
Foundation Courses
The London Image Institute, an international organization teaching image consulting offers a six-day foundation training course that covers such subjects as consulting methods, color analysis, body analysis, solutions for problem figures, wardrobe strategies, image terms, consulting and critiquing skills. This foundation course, along with some extra materials, prepares students to take the first level examination for the Association of Image Consultants International certification.
Advanced Course
The advanced course offers presentations on image, personal branding, before and after makeovers of clients, presentation practice, training modules for presenting seminars, workshops and group tutorials and business development. At the end of this course, participants are certified by the London Image Institute along with two months' follow-up support and available continuing education. These students may apply for Certified Image Professional from the AICI.
Master Curriculum
The master curriculum spends two days on public speaking and presentation. This includes overcoming fears and polishing performance. In the one-day seminar on being a spokesperson, participants learn to think on their feet and give media interviews. It also has a four-day component on etiquette taught by Peter Post of the Emily Post Institute.
Master Certification
The AICI master certification is awarded to consultants who can demonstrate excellence including 2,000 hours of work per year; a continuing education record; a professional fee structure, original systems or developed work such as books, training aids and products; recognition by peers; and commitment to AICI.