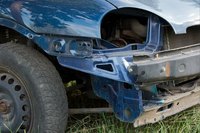 Auto insurance is required in most places, but not everywhere. Despite the near-universal requirements, many people choose not to buy insurance anyway and risk the consequences. You may wonder what will happen, legally and financially, if you are in an accident without insurance but the accident is not your fault. Like most issues with auto insurance, the answer is not the same everywhere.
Insurance on the Car
First, verify that you are truly uninsured. If you are in another person's vehicle but do not own an insurance policy, the owner of the vehicle may have a policy that covers you. While not all insurers offer this type of coverage, some policies include "permissive drivers," or anyone the primary owner allows to drive the vehicle with permission. In this case, it is quite possible that you are not actually uninsured.
State Laws
After you verify that there are no insurance policies that cover your accident, familiarize yourself with your state's laws. Nearly every state requires you to carry valid auto insurance. If you live in these states, you may face legal penalties including fines and possibly jail time for driving without insurance, even if the accident is not your fault. In New Hampshire, where auto insurance is not mandatory as of 2011, you will only face penalties if you are negligent for the accident.
Collecting Benefits
Regardless of the legal issues you may face for getting caught without insurance, you may still be able to collect benefits from the negligent driver's insurance company. After all, you did not cause the accident, and therefore you should be reimbursed for your damages from the person who did cause it. However, some states may forbid you from collecting benefits because you were uninsured. Your ability to collect from the other party's insurer may depend on your state's laws.
Future Premiums
Being uninsured in a car accident, even if it's not your fault, may help you understand the importance of auto insurance. You may have some trouble finding an insurer that wants to offer you coverage, or you may have to pay premiums that are higher than the standard rate. This is because in most states, driving without insurance is a crime, and it will appear on your driving record as such. Some insurers may raise rates to reflect this moving violation. Other insurers may see your previous uninsured period as a risk factor and charge you a substandard rate as a result.