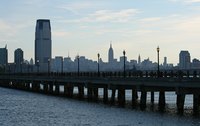 Driving under the influence of alcohol or drugs is a serious offense that comes with multiple fines and penalties. New Jersey, like other states, takes these types of offenses very seriously. A DUI in New Jersey will also affect your car insurance.
DUI Definition
A DUI, or Driving Under the Influence, is a legal offense in each of the 50 states. In cases involving alcohol, it is against the law to operate a motor vehicle with a blood alcohol content, or BAC, above .08 percent. Although a driver may have a BAC below the legal limit, he may still be arrested if his ability is considered impaired by the arresting officer. Some states will convict drivers of "driving while ability impaired," or DWAI, for driving with this lesser amount of alcohol in their system.
Underage drivers are subject to a nationwide "no tolerance" law, which convicts minors with a BAC of .02 percent. In some states, minors are arrested if they have any amount of alcohol in their system.
New Jersey DUI Penalties
Penalties for a DUI in New Jersey start with a license suspension for three months for a first-time offender. Drivers can request a special hearing with their DMV to try to get their licenses back, especially if they need them for work or medical purposes. Fines range from $250 to $400, with additional related state fees of $275. Drivers that are convicted will need to pay an annual insurance surcharge of $1,000 for three years, and will need to attend a drug or alcohol school for a minimum of 12 hours.
For drivers who are arrested with a BAC level of .10 percent or higher, the penalties and fines are more severe, with an immediate license suspension from seven months to one year. She will also be required to install an ignition interlock device in her vehicle. She must blow into this device in order to start her vehicle, and the motor will not start if the mechanism detects any trace of alcohol at all on her breath.
Insurance Surcharge
Most states require convicted drivers to carry what is known as SR-22 insurance. SR-22 is the name of a form that certifies a driver's financial responsibility. In other words, the driver must carry SR-22 insurance, and his insurance company files the SR-22 form with the DMV to prove that the driver is carrying the minimum liability insurance amount required by the state.
New Jersey does not require an SR-22 after a DUI conviction; however, the annual insurance surcharge is assessed in its place. Drivers must pay $1,000 each year for three years, or $1,500 for a driver with three or more DUI convictions. If convicted drivers do not pay the surcharge, they will have their licenses suspended indefinitely.
Insurance Rates
In New Jersey, a DUI conviction remains on the driver's record for the rest of his life. This means that even when the driver has finished his three-year period of insurance-surcharge payment, his insurance will still be more costly than a standard policy, due to the DUI mark on his driving history. This blemish will cause any insurance company to keep him in a high-risk driver category, which will be reflected in higher insurance rates.