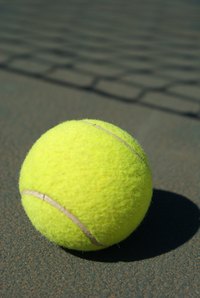 Sports engineering combines technology with the mechanics and equipment used in sports. For example, projects for sports engineers could involve developing mountain bike suspension technology or improving the aerodynamics of golf balls to increase flying time and accuracy. Sports engineering careers also apply the laws of science to enhance and create new types of surfaces and equipment present in sports arenas, gyms, fields and other venues.
Function
Sporting goods companies and organizations consult sports engineers for developing products and equipment that are safe, reliable and creative. Engineers research different technologies and methods that improve the performance of products such as tennis balls, rackets, footwear and sportswear. For instance, a sports engineer might observe how the seams and grooves of a soccer ball impact aerodynamics during movement. Engineers also work with athletes directly to assess how their oxygen intake, nutrition and workout regimen affect their performance.
Education
Sports technology jobs often fall under the umbrella of mechanical engineering, so that is a common course of study. However, it is becoming increasingly common for students to major in materials science, physics, electrical engineering, medical physics, sports technology and mathematics. Dr. David James, a senior lecturer with the Sports Engineering Group at Sheffield Hallam University of Sheffield, England, writes that students should be mindful that traditional engineering programs use sports as examples, while other courses are more focused on product development and design. Employers also look for students and professionals who have played sports as athletes and are knowledgeable about the game.
Salary
The average annual wage for professionals in mechanical engineering was $80,580 in May 2009, according to the Bureau of Labor Statistics. Electrical engineering--another common major for sports engineers--averaged an annual salary of $86,250. However, due to the lure and appeal of the sports industry, sports engineering jobs tend to pay less than positions in other engineering fields, John Edwards writes in the article "This Sporting Life."
Potential
The number of sports engineers working in the sports industry is small, according to the article "This Sporting Life." Competition is steep and networking, rather than submissions to open ads, often helps jobseekers land a position. Kim Blair, director of the Massachusetts Institute of Technology's Center for Sports, stated, "It's all about networking, getting to meet people and trying to get an internship." In addition, turnover is high due to a mobile workforce and periodic layoffs in sports companies and research organizations.