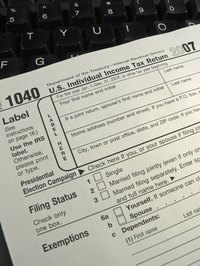 Although you might have to pay personal income tax, you should be aware of the deductions and tax credits available. These deductions range from the sales tax on a new car to expenses you had to lay out when you were looking for a job. Energy improvements on a home also entitle you to a little tax relief.
Sales Tax
Depending on how much you make and what state you live in, one overlooked tax deduction is state sales tax paid on homebuilding materials, as well as the sales tax paid on a vehicle – including boats and airplanes. The Internal Revenue Service website provides a calculator to let you figure out the percentage of sales tax you'll be able to deduct. Simply put in the state you live in and how much your income is, and the IRS does the rest.
Charities
Obviously, you can write off items you've donated to charities, but you can also deduct anything you've paid for out of pocket on behalf of charities. Naturally, you will need to keep the receipts. For example, let's say you decided to donate a pot of chili to your local homeless shelter. You can deduct all of the ingredients for the chili, as well as deduct 14 cents a mile for the trip to the homeless shelter.
Job Hunting
If you looked for a job, you will be able to deduct some of the expenses you've incurred in looking for work. Some of the deductions you can claim are any fees that you paid to employment agencies, as well the cost of preparing your resume. In addition, if your search for a job caused you to travel, you can deduct the cost of the airfare, as well as any miles you put on the car. Even the cost of eating and sleeping, known as meals and lodging, can be used as tax write-offs.
Energy Improvements
For 2011, several tax credits can be used for energy efficiency. If you installed energy saving appliances in your home, you will be able to claim up to 10 percent of the cost up to $500 on items such as heating equipment and air conditioning, as well as windows and doors. In addition, if you upgraded the insulation in your home, you can claim a tax credit of 10 percent of the actual cost, with a maximum credit of $500. The credit applies to actual insulation costs and does not cover the cost of having the insulation installed. These are tax credits, which are actually better than deductions, since tax credits reduce your tax bill one for one. So, if you have a tax credit of $500 and a tax bill due of $750, you will only owe $250.
Child Care
Child care is tax deductible if you had to use the child care to go to work or to try to find a job. Depending on your income level, you can claim up to 35 percent of your child care expenses as a tax credit.