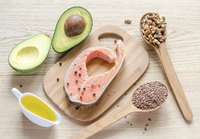 When it comes time to don your swimsuit each summer, you may pledge to never touch fatty food again. But that won't do your health any favors. Fat helps you absorb nutrients from food, and it supports the maintenance of healthy cell membranes. The "good fats" -- mono- and polyunsaturated fats -- when used in place of saturated fats, can improve heart health. Getting too little unsaturated fat may contribute to a host of negative effects, including poor nutrient absorption, heart disease and reduced cognitive function.
Nutrient Deficiencies
Essential vitamins from the foods you eat help support healthy physiological function. Vitamins A, D, E and K, are called fat-soluble vitamins because they are stored in the body's liver and fatty tissue. Absorption of these vitamins requires fats from other foods you eat. For example, a little bit of monounsaturated fat-rich olive oil on a salad will improve the absorption of vitamin K from leafy greens. If you don't eat fat, you could have trouble absorbing enough of the fat-soluble vitamins your body needs to function optimally.
Too Much Saturated Fat
The American diet tends to be high in saturated fats from dairy and meats, as well as trans fats from processed snack foods, pastries and fried foods, making up the lion's share of many people's daily fat intake. Too much saturated fat and not enough unsaturated fat in the diet raises your unhealthy LDL cholesterol and lowers your healthy HDL cholesterol. This may lead to clogged arteries and increases your risk for coronary heart disease, heart attack and stroke.
Cognitive Impacts
Without enough healthy fats in your diet, you may find that you can't think as clearly or remember things as well. A study published in "Annals of Neurology" in July 2012 found that older women who consumed more healthy monounsaturated fats performed better on cognitive tests measuring memory and overall brain functioning. Women who had higher saturated fat intakes didn't perform as well on the same tests. A deficiency of one type of polyunsaturated fatty acid, omega-3, may be particularly detrimental to cognitive health. An analysis published in February 2012 in "Neurology" found that low red blood cell omega-3 fatty acid levels were associated with accelerated brain aging in 1,575 participants of the landmark Framingham Heart Study.
How Much You Need and Sources
The USDA's Dietary Guidelines for Americans recommends people get 20 to 35 percent of their total calories from fat. Most of those calories should come from healthy mono- and polyunsaturated fats found in fish, nuts, avocados and vegetables oils such as olive oil. The American Heart Association recommends limiting your saturated fat intake to 7 percent of total calories and eating as little trans fat as possible.