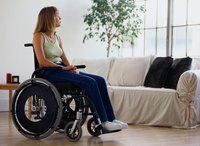 California law offers broader definitions of disability than federal law does. In California, a disability is a physical or mental impairment that makes major life activities, such as working at a particular job, difficult. While it is sometimes legal to fire an employee who takes disability leave, you could end up paying substantial penalties including back wages, punitive damages and damages from emotional distress.
Employee Rights
Similar to the federal Family and Medical Leave Act, the California Family Rights Act gives employees the right to 12 weeks of unpaid leave a year. The grounds for taking CFRA leave include short-term disability and other health conditions. An employee normally has to give 30 days notice to use CFRA leave, but if that's not practical -- like if she's suddenly disabled by an accident -- she only has to give notice as soon as possible. You are usually required to hold her job open or find a comparable job at your company.
Pregnancy Leave
If an employee is unable to work because of her pregnancy, she's entitled to take up to four months disability leave. This can include time before and after the actual birth. Under state law, it's legal to take pregnancy disability leave, then take CFRA leave time as well. A worker who takes pregnancy leave is entitled to her old job under the same terms as someone who exercises her CFRA rights.
Firing the Employee
Firing an employee for taking CFRA or pregnancy leave isn't legal. Nor can you fire her because you'll have to make adjustments when she returns, such as providing different working conditions. If you can't accommodate her disability, however, you may have grounds to terminate her. But before you do that, you must first make a good faith, interactive effort to accommodate her. Interaction includes asking about her professional experience if you have to reassign her, and suggesting alternatives if her preferred accommodation isn't workable. Document your meetings so that you can show the state you followed the law.
After the Firing
If an employee believes she's been fired unfairly for taking disability leave, the state's Department of Fair Employment and Housing recommends you and she make a good faith effort to work things out. If that fails, she can file a complaint with DFEH any time up to a year after you fired her. If the department finds for the employee, she may be entitled to back pay, punitive damages, promotion or reinstatement, and restitution of her legal fees.
Legal Defenses
If your records show you made a good faith effort to accommodate your employee before firing her, you should have a valid defense for terminating her. You may also be on safe ground if the employee didn't follow the rules, such as if she didn't provide a doctor's confirmation of her medical problems when you asked for it. If the employee was laid off rather than fired -- like if you eliminated the employee's job and there's no comparable position for her -- that's another valid reason for not taking her back.