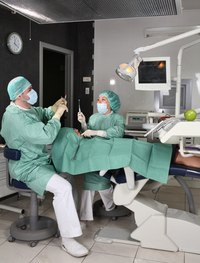 Being a dental assistant in Wisconsin offers a decent salary to work with dental patients and assist dentists during various cleaning and surgical procedures. It is a great opportunity to start a career in dentistry with only some education and a decent average salary while still having some opportunities to move up in the industry.
Wisconsin State Average
As of May 2009, the average or mean wage for dental assistants in the state of Wisconsin was $33,650 per year or $16.18 hourly. The median or 50th percentile of the 6,020 dental assistants working in Wisconsin that year was $15.96 per hour, or $33,200 per year, according to the Bureau of Labor Statistics.
Wisconsin Metro Averages
Dental assistant salaries differ among metro areas. Dental assistants in Green Bay, Wisconsin in May 2009 made an average $33,410 per year, or $16.06 hourly, while dental assistants in Sheboygan made a little less at a mean $16.01 per hour, or $33,290 annually. Madison dental assistants averaged the most at $38,740 per year, or $18.63 hourly, a 14.4 percent increase over the Wisconsin state average.
State Comparisons
Dental assistants make good money on average in Wisconsin at a mean of $33,650 per year or $16.18 hour, but only a few states pay less than that. The Bureau of Labor Statistics lists the average salary for dental assistants in Idaho as $29,020 and Utah as $27,970 per year in May 2009. Nearby Minnesota dental assistants made more at $41,510 per year, 19 percent more than Wisconsin's mean.
National Comparison
The Bureau of Labor Statistics reported the American average salary for dental assistants was $34,000 per year, breaking down to an hourly wage of $16.35. This is close to the Wisconsin state average salary for dental assistants at only 1.1 percent higher. This means Wisconsin dental assistants can rest assured that though there are more profitable salaries in other states, Wisconsin is still offers a comfortable salary near the American average.