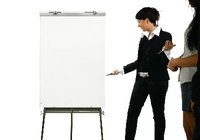 Training employees is an ongoing responsibility of business owners or their human resources departments. Well-trained employees are generally more productive, efficient and satisfied in their job roles. Training programs are not only for new hires; ongoing, advanced training initiatives can continue to boost the effectiveness of your workforce over time. Understanding effective methods for training employees can give you the tools to build a more valuable workforce than other companies in your industry.
Orientation and Training
A comprehensive orientation and training program for new employees is essential in virtually any business. Placing new hires on the front line without adequate training can lead to poor performance and a slower learning process, possibly damaging your reputation with customers, suppliers or strategic partners in the meantime.
Orientation programs should familiarize new hires with the facilities they will be working in and the people they will be working with, as well as covering issues that can be mental distractions during training, such as pay policies, promotion policies, dress codes and scheduling procedures. Pre-work training programs should familiarize new hires with all of the functions they will be asked to perform in their jobs.
On-the-Job Training
The length and depth of pre-work training programs varies by industry and among individual companies. Regardless of the structure of formal training programs, all employees should be watched and guided by experienced trainers during their first few days on the front line. On-the-job training allows each employee to receive personal, customized feedback based on their strengths and weaknesses, allowing them to focus on issues they may be struggling with while leaning on their early strengths.
Incentive-Based Training
Training programs for existing employees can steadily increase the value of your workforce to your organization, allowing you to gain a reputation for quality in the marketplace and a reputation as a good employer among the workforce. Offer advanced training courses from time to time on topics such as ethics, customer service quality, leadership and conflict management. Tie incentives, such as pay raises, a day of paid leave or eligibility for promotions, into the training programs to encourage participation and give graduates a real sense of achievement and pride.
Personal Study
Certain high-paid, high-responsibility positions require new hires and existing employees to train themselves on their own time. Especially for professionals in a specialized niche, employers may expect new hires to get up to speed quickly after coming on board.
Consider an experienced computer programmer, for example. If the programmer knows five programming languages, and he is hired for a position that requires him to know a different language, he will most likely study and master the new language quickly on his own time, only asking for advice from time to time on the job.