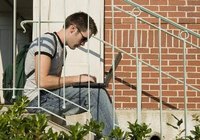 Pell grants are federal funds for college directed at lower-income students based on need. The big advantage of Pell grants is that there is no repayment unless the student does not attend class. Enrolling in more than one university in the same semester is dual enrollment for Pell grant eligibility, and you will not be able to qualify for more than one Pell grant. You may be able to take courses through different resources and qualify for Pell grant funds.
Dual Enrollment
High schools use the term "dual enrollment" for excelling students who want to attend college, but have not yet completed high school. Students who have not completed high school do not qualify for Pell grants, according to the 2011 FSA Handbook. Recommendations by The Heritage Foundation and others as early as 2004 encouraged Pell grant use for dual enrollment for high school students. Congress has not changed the Pell grant regulations to include high school students as of 2011. Pell grant awards require a GED or high school diploma.
Correspondence Courses
When you complete the Free Application for Federal Student Aid, you indicate colleges you would like to attend. You may take correspondence courses or online courses if they lead to an associate or bachelor's degree and if the school qualifies for Pell grant funds. For Pell grant purposes, a student enrolled in correspondence study is half-time or less. Correspondence courses cannot be remedial and cannot be more than the regular coursework hours. The federal student aid regulations limit the cost of attendance calculations for correspondence courses. You may qualify for Pell grant funds for enrollment in correspondence courses from the same college or university you are attending in person. This is not "dual enrollment" because the coursework is through one eligible institution.
Distance Education
The U.S. Department of Education considers courses transferred by technology as distance learning or distance education. If the course does not qualify as distance education, it is a correspondence course under the Pell grant regulations. Students may receive Pell grant assistance for distance learning if the coursework leads to a degree and if the coursework meets other specifications. An accrediting agency approved by the DOE must certify the distance education school. Because the coursework must lead to a degree, any other coursework must be with the same college or university to qualify for Pell grant funds.
Consortium Agreement
Some colleges have consortium agreements with other universities that affect Pell grants. The school that disburses the Pell grant is the "home institution." Sometimes these universities have quarter hours and semester hours, and convert to the home institution's method of calculating credits. You may qualify for a larger Pell grant award based on attendance at the two colleges under this arrangement. Contact your university financial aid office and ask about any agreements with other colleges.