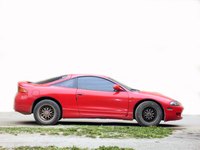 Insurance companies typically define a sports car as any car with only two passenger doors, with the exception of trucks. Other companies may go by the horsepower or the number of seats, but the number of doors will still play a decisive role. This classification means sedans, cars with four doors, are considered safer, even when compared to an otherwise identical two-door model.
Sports Car Driver Profiling
Insurance companies see owners of sports cars as being potentially risky behind the wheel. Such drivers may be more likely to use excessive speeds or try to zip through a traffic light as it turns red. Because these activities add a great deal of risk to insuring the car, your premiums will increase, and a few marks on your driving record could make your insurance premiums quite expensive.
Sports Car Profiling
Insurance companies do not consider a sports car to be an accident waiting to happen, but they do consider such a car more likely to get into accidents and more expensive to repair or replace. A typical sports car only has two full seats, a large motor, and an eye-catching, sleek exterior. For insurance companies, each of these points increases the risk of insuring the car.
Sedan Profiling
A car with four doors is a typical family car. The car isn't used for drag racing, but it might be used to ferry a group of children home from a ball game. Because the sedan is associated with a sedentary lifestyle, insurance rates are lower. Driving a sedan is a sign of a sort of maturity, and that means you are less likely to be involved in risky behavior while driving.
Safety Equipment Saves Money
You can reduce the cost of insurance for a sports car by choosing one with factory installed safety features. Side impact air bags are designed to absorb the force of a side collision, and electronic stability control helps to keep the car stable and prevent it from going into uncontrollable slides. Insurance companies will offer discounts for having these types of safety features, along with such things as theft deterrent devices and hands-free radio and electronics docks.
You are Your Own Best Discount
No matter what type of car you drive, your personal information will always be the key to getting discounted car insurance. A good credit score is a sign of responsibility, meaning that you are considered less of a risk to insurers. Safe drivers are assured of getting the lowest rates possible, even for a high-end sports car. By building a reputation as a safe and responsible person, you reduce the risks that insurers are concerned about and that comes back to you in the form of more discounts and cheaper insurance.