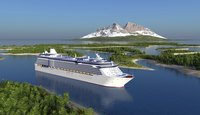 If your vision of working an internship on a cruise involves bobbing in a crystal-blue swimming pool while sipping tropical daiquiris in between job responsibilities, forget the idea. Internships on cruises involve the same high level of commitment, hard work and professionalism associated with other jobs. One benefit, though, is that working internships on cruises can help you gain valuable experience and knowledge about the industry while enjoying some travel on the side.
Internship Types
Not all cruise internships involve swabbing the deck or making mai tais for snorkeling tourists. Cruise interns can work in product marketing, marine and hotel operations, human resources, or financial aspects of cruise ship operations, according to Royal Caribbean Cruises. Some cruise ships are land-based; interns live on shore but participate in weekend cruises or day cruises for whale-watching, diving, or other water sports.
Program Length
Internship program length varies depending on the company offering the position. Some internships may last from six to 10 weeks, while others may extend throughout a season — for example, a summer cruise period or winter cruise period — or even up to six months.
Job Opportunity
A major benefit for working a cruise internship is to become familiar with a company's vessel, business approach, and processes for running the ship. While some interns may work cruise stints to gain general industry experience or score an unusual letter of recommendation, others hope to land a job directly upon completing the internship. Employers sometimes use internship programs to field potential workers, observing their work ethic, communication skills, and capability at sea. Performing well during an internship can lead to a more permanent position in some instances.
Internship Advantages
For some interns, the allure of adventure at sea is a key advantage in working on cruise ships, despite the reality of manual work or cramped living quarters. Not everyone experiences life aboard a floating hotel, and this unique experience can be quite rewarding. Interns may also have the chance to practice foreign language skills with customers and other workers since famous cruises attract visitors and employees from around the world. Extended periods at sea can help you accumulate sea hours to put towards eventually earning a captain's license.
Drawbacks of Internships
Not all internships are paid; companies may expect you to consider the work experience and travel involved as adequate compensation. In some cases, internships can earn college students academic units when paired with research projects or assigned portfolio work. Cruise ship rules may prohibit interns from hanging out in recreation areas where guests have access, such as swimming pools, restaurants, casinos and nightclubs, even during off-hours. Job responsibilities may prevent you from going ashore when docking in tempting travel destinations since cruise ships often take this time for extra cleaning and restocking. And since cruise ships are sometimes at sea for days or weeks at a time, you may be stuck working long after deciding that the job's not right for you.