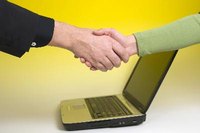 Before applying to a full-time or part-time job position, carefully weigh the benefits of each option to determine which will suit your personal and professional needs. While part-time work offers plenty of benefits, you may prefer working longer hours and earning more money, for example. Or, you may enjoy full-time work but need extra time off to pursue additional education or professional training. Comparing full-time benefits versus part-time benefits offers a broader view of your employment options.
Compensation
A major benefit to full-time work includes increased pay. Since you're working more hours, you're likely earning more money in many instances. For individuals supporting a family, paying down student loans or saving for a down payment for a home, working full time may be the most efficient route to achieving those financial goals. Higher overall earnings can be considered a primary benefit to full-time work. Additionally, full-time workers frequently earn more benefits than part-time workers, including paid vacation days, paid sick days, paid leave for professional development, health care access or contributions to retirement funds.
Scheduling
Flexible scheduling is a primary benefit of working part time. Jobs involving part-time work permit more hours outside of the workplace. People raising children, completing college coursework, training for new careers or pursuing creative freelance work like photography or interior design can work part time to make time for preferred activities or personal obligations. Because full-time work places greater demands on your schedule, it's more challenging to incorporate primary child care, go back to college or start your own business.
Exposure
Another benefit to full-time work is increased exposure in the workplace. Because you're around when other colleagues are working, managers and business owners may come to rely on you regularly for input, consultations or additional responsibilities. This increases visibility, making you a candidate for a promotion or pay raise when the opportunity comes along. Part-timers have a subtler impact in the workplace, since they're not around all the time. While you may still perform excellent work, colleagues may take credit for some of your ideas if you're not around to correct the record. More-visible employees may be selected for choice assignments or special responsibilities.
Entry
One benefit to part-time work is the appeal of entry into a new field, especially if you're returning to the workplace after spending time in college or child-rearing at home. While employers may not have the funds or inclination to take you on as a full-time employee, it's possible that they may take you on as a part-time employee. During this time, you'll be able to demonstrate skills and knowledge that prove that you're an asset to the company. Part-timers may eventually transition into full-time work when a position opens.