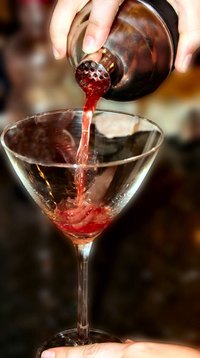 Bartenders work in businesses ranging from small taverns to upscale bars in restaurants, hotels and resorts. Salaries can vary a great deal by type of establishment and by location. The average salary for bartenders in Georgia is very similar to the national average for this occupation. The Georgia median salary, however, is lower than the national median.
Salary Range
The average salary in Georgia for bartenders as of May 2009 was $10.10 per hour, or $21,010 per year for full-time workers, advises the U.S. Bureau of Labor Statistics. The middle 50 percent of bartenders on the earnings scale were making $7.28 to $12.08 per hour. The top 10 percent had a pay rate of at least $16.60 per hour, while the bottom 10 percent were making $6.88 per hour and less. Nationwide, the average salary for bartenders was $10.08 per hour, or $20,970 per year.
Considerations
Some bartending pay rates in Georgia are lower than the federal minimum wage, as shown by the BLS data. Bartenders commonly receive tips that are not included in salary figures, and tipped employees can legally be paid less than minimum wage. In Georgia as of February 2011, the minimum wage for tipped employees is only $2.13 per hour if the business can reasonably expect these employees to make up the difference with tips.
Median Salary
Bartending salaries in Georgia vary by city. The Georgia average salary for these workers is skewed higher because salary rates in some cities are significantly higher than in most parts of Georgia. The median salary is a better indicator of the salary bartenders can expect to earn in this state. The median is the number in the exact middle at which an equal number of all other salary figures are lower and and equal number are higher. The median salary for bartenders in Georgia is $8.07 per hour, or $16,780 per year. Nationwide, the median salary for bartenders is $8.82 per hour, or $18,350 per year.
Comparisons
The lowest pay rates for bartenders in Georgia generally are in Rome, Albany, and the south nonmetropolitan area, where the average hourly wage was about $7.50 to $7.75 in 2009. The average hourly rate was $8 to $9 in Athens and Clarke County, Augusta and Richmond County, Dalton, Macon, Savannah, Valdosta and the middle Georgia nonmetropolitan area. Average pay rates were higher in Warner Robins at $9.06, Columbus at $9.65, Brunswick at $9.24, the northern metropolitan area at $10.52, Chattanooga at $10.39 and the Atlanta-Sandy Springs-Marietta metropolitan area at $10.81.