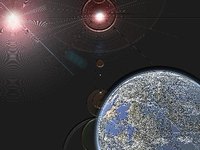 Astronomers carry out research to learn about the universe. The Bureau of Labor Statistics notes that astronomy can be considered as a subspecialty of physics. A doctoral degree is the standard requirement for employment as an astronomer; a master's degree is suitable for those seeking support positions in the field, according to the National Optical Astronomy Observatory.
Educational Requirements
The BLS notes that individuals pursuing careers as astronomers usually hold a Ph.D. in astronomy or physics. With a master's degree, you may qualify for a job as applied research. The BLS observes that many astronomers hold faculty positions for which a Ph.D. is a prerequisite. Majoring in physics or astronomy as an undergraduate is advised for those who wish to apply to Ph.D. programs in astronomy.
Training
There are approximately 75 universities in the U.S. that award degrees in astronomy; 40 of those are home to Ph.D. programs in astronomy, according to the BLS. Students in a master's program are required to complete a research project and thesis after taking required courses in astronomy and physics. At the doctoral level, coursework covers topics such as cosmology, modern astronomy and astronomical instrumentation. Ph.D. candidates submit a dissertation and must pass qualifying examinations to receive the doctoral degree in astronomy.
Admissions
While admissions requirements for graduate programs in astronomy may vary by institution, prospective students can better their chances of admission by taking upper-level classes in physics and astronomy as undergraduates. At the University of Texas at Austin, applicants are advised to take undergraduate courses in mechanics, physics and quantum mechanics. They are also required to take a standardized physics test and submit transcripts and recommendations. Research experience is also beneficial for prospective applicants to graduate astronomy programs.
Career Outlook
The BLS notes that employment for astronomers is expected to grow by about 16 percent through the year 2018; this is largely due to planned increases in federal spending for astronomy research. Job prospects for astronomers will primarily be in academia or in government, according to the BLS. With respect to salary, the median annual wage for astronomers was $101,300 in May 2008. The BLS states that many astronomers start out in postdoctoral positions, where they earn a modest salary -- in the mid-$30s according to the National Optical Astronomy Observatories -- while strengthening their research skills.