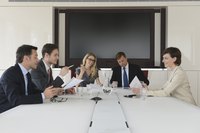 Being able to make decisions that serve the best interests of a company -- sometimes on short notice -- can help improve productivity. Empowering staffers with some degree of decision-making authority also can help boost performance.
Establish Goals and Objectives
Involve employees in setting individual and group goals for the company, and keep them in the loop about specific areas of corporate strategic direction. This ensures all staffers are on the same page about the company's objectives, which can help them make better-informed decisions when necessary. When opportunities arise that require a quick decision, it won't just be an educated guess -- it will be a knowledge-based decision that can improve company performance and productivity.
Model Decisive Behavior
Set an example for employees by being public about how you reach both easy and tough decisions. Explain your decision-making processes and show the link between decision-making and increased productivity. For example, "I had 24 hours to consider whether to lease out the space next door to expand our offices, and I decided to take it. We're all so crammed into our current location that it's hard to find private space to meet with clients or work uninterrupted, and I decided having the extra breathing room will make us all more efficient and less stressed."
Create Autonomy
Empower employees at all levels to have some degree of decision-making power. If a staffer doesn't have to go to a manager for approval on every trivial matter related to his job description, he's likely to be more productive. Provide directives and oversight, but give increasing levels of autonomous decision-making power to staffers as their performance dictates. The more staffers can handle on their own, the more time gets freed up for other work.
Provide Motivation
Employees who feel empowered are more likely to have higher degrees of job satisfaction and good morale, which can have a direct impact on performance and productivity. Invite employee feedback, ask for opinions and show them you appreciate and value their input. Reward smart decision-making or taking of strategic direction that has a positive outcome. Publicly recognize efforts to encourage others in your organization to show the same type of initiative.
Don't Share Everything
There are times when the decision-making process should be limited to management and not open to debate or group input. This might include sensitive or confidential intel related to corporate finances, hiring and firing or setting a bonus structure. In these instances, the final call on matters should be limited to key management decision-makers.