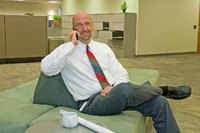 The Internal Revenue Code recognizes an S corporation under Subchapter S of Chapter 1. An S corporation is not subject to double taxation of corporate and shareholder taxes. Shareholders of an S corporation are only subject to individual taxes. There is no limit on S corporation income, and it does not pay federal income taxes but passes income to shareholders, who must then report the income.
S Corporation Qualifications
To qualify for S corporation status, the company must not have more than 100 shareholders and have one class of stock. The company must be an eligible business entity, such as a corporation or limited liability company, and shareholders must be U.S. citizens and residents. A shareholder receives pass-through income from the S corporation based on his ownership interest.
Income Distribution
There is no cap on the income that an S corporation can earn. A shareholder receives income, losses, deductions or credits passed through from the S corporation based on his proportionate interest, which he must file on his individual taxes. The shareholder must still report income even if the S corporation chooses not to distribute income for the year and must report a capital gain if his distribution exceeds his stock basis.
Advantages of an S Corporation
Wages of an S corporation shareholder who is also an employee are subject to employment tax of 15.3 percent for Social Security. However, distributions are taxed at a lower rate. The personal assets and liabilities of shareholders are separate from the S corporation. A shareholder can leave or sell his shares without affecting the business. Lastly, an employee-shareholder can write off his health and life insurance expenses. However, health and life insurance are considered taxable income if the shareholder owns more than 2 percent of the company.
Disadvantages of an S Corporation
S corporations require stricter operational protocol than a limited liability company. An S corporation must maintain minutes of meetings, update its bylaws and maintain adequate records such as stock transfers. An S corporation can only have one class of stock, and it may have difficulty attracting outside investors. If an S corporation exceeds the 100-shareholder limit, it must convert to a C corporation. Another disadvantage is an S corporation shareholder who is also an employee must receive adequate compensation. A low salary coupled with a high distribution is a red flag for the IRS that can trigger an audit.