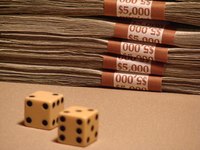 Small and large companies often conduct business transactions in one or more foreign currencies. Fluctuations in these currencies represent risks because they can negatively impact a company's competitiveness and profitability. The absence of a foreign exchange management strategy can leave a company vulnerable to dramatic currency movements. Businesses can protect against these risks by hedging, which is the use of relatively low-cost financial instruments to anticipate and offset the impact of currency fluctuations.
Facts
Companies have different foreign exchange exposures, such as transaction exposure related to fees and taxes; translation exposure, which arises when foreign country results are consolidated into the home currency; and economic exposure that impacts all transactions as currencies fluctuate with changes in a country's economic conditions. Companies may decide not to hedge and accept the foreign exchange risk, selectively hedge part of their foreign exchange transactions or systematically hedge most of their revenues and assets.
Natural Hedging
Natural hedging means that a company is covered against foreign exchange risk as a result of its normal operations. For example, if a company does business in multiple foreign jurisdictions, natural hedging would allow it to match its payables and receivables almost perfectly in each country. Natural hedging takes time to develop. Although most companies have some of it built in, other hedging strategies are usually required to manage foreign exchange risks.
Forwards
A forward contract is a common currency hedging strategy that sets the future price of currencies today. It is an agreement to convert two currencies in the future at a rate set today. Although the company is protected from downside risk, it cannot benefit from favorable currency moves because the future exchange rate is fixed.
Options
Currency option contracts give holders the right but not the obligation to buy (call option) or sell (put option) currencies at a predetermined exchange rate in the future. It is an insurance policy that protects against adverse currency movements while allowing the holder to profit from favorable movements. The risk is usually limited to the premium paid for each option contract.
Swaps
Swaps are used to optimize the management of cash flow of multiple currencies. The parties exchange principal amounts of two currencies at current exchange rates, while agreeing to swap the currencies back in the future at a rate based on the prevailing interest rates in the two countries. Swaps allow companies to cost-effectively match cash inflows in one currency with cash outflows in another currency without incurring foreign exchange risk.
Considerations
Companies should continually evaluate their foreign exchange risk management strategies, including the effectiveness of their hedging programs. Senior management approval is usually required for making changes and a handful of key personnel should have operational responsibilities for implementing corporate hedging programs.