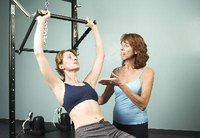 With obesity as a recognized problem in the United States, the U.S. Bureau of Labor Statistics estimates that employment for fitness workers such as personal trainers will grow by 29 percent through 2018. To become a personal trainer and guide individuals through fitness routines, you ideally should have formal training so that you and your clients perform all exercises safely and with maximum benefit.
Standardization
As of 2011, there are no standard education requirements for personal trainers, although it is beneficial to have formal training in the field. Different employers require specific levels of education and training.
Degrees
Although having a degree is not required to be a personal trainer, many personal trainers have an associate or bachelor's degree in fitness or health. Some employers may require a master's degree for upper level positions, according to the BLS, but this is a preference of the employer and not a state requirement. To enter personal training programs, you usually need at least a high school diploma or GED.
Certifications
Most states and employers recommend that personal trainers have certification, even if they have a college degree. Getting certified as a personal trainer requires additional education. You need certifications for each type of training you want to do, so education requirements depend on your career choices. Many personal trainers hold multiple certifications from different agencies. Like degree programs, most certifying agencies require a minimum of a high school diploma or GED.
Because there are so many certifying agencies, choose ones that are recognized by employers such as the American Council on Exercise, Aerobics and Fitness Association of America, American College of Sports Medicine or the National Academy of Sports Medicine, for example. Employers typically require certification in cardiopulmonary resuscitation and automated external defibrillator. You can get these certifications through the American Red Cross.
Length of Training
Typically, getting a degree for personal training takes two to four years; more if you want a graduate degree. Because of the lack of standardization in personal training education, certification programs can last just a few days to up to two years, says the Bureau of Labor Statistics. Many are two to four months in length and provide at least 200 to 500 training hours.
What You Learn
Education for personal trainer degrees typically concentrates on the sciences. You study nutrition, biology, anatomy, physiology and kinesthetics. Certification classes focus on the subject specific to the area of certification. For instance, weight training certification classes teach how to spot properly or gauge the amount of weight a client can handle. It is beneficial to take some courses in public speaking, writing and business even if they are not offered as part of your degree or certification because personal trainers must communicate well with clients, write fitness plans and progress reports, engage in self-marketing and track client accounts and earnings.
Education Options
You may gain personal trainer education through online courses. You can also take traditional on-site classes from vocational schools, colleges and universities. Seminars are another option -- these usually last just two days.