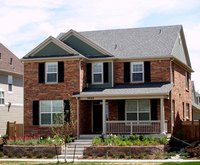 A mortgage is a primary mortgage if you live in, or plan to live in, the home at the time you obtain the mortgage. Another term for a primary mortgage is an owner-occupied mortgage. When you sign loan documents, you agree in writing that the home will be your primary residence. The interest rate you receive on the loan is less than you would pay for a loan on a rental property because the lender feels the probability of default is lower if you plan to live in the property.
Intent
The phrase that's written in the loan agreement is that you intend to live in the property or that you're currently living in the property in the case of a refinance. Intent is difficult to prove; circumstances can change quickly. You may begin a divorce procedure or you or a family member may have an unexpected medical condition requiring a move. That doesn't mean that you didn't intend to live in the home at the time you signed the loan papers.
Conversion to Rental
If you decide to convert your home to a rental after living in it for a reasonable period, your lender won't attempt to change the terms of your loan. If, on the other hand, you decide to rent your home soon after your loan funds and you alert the lender by changing the address they send your statement to or by any other means, the lender may ask you to provide a statement explaining your situation. In any case, it's highly unlikely that the lender will attempt to change your loan.
New Purchase
If you decide to purchase an additional home and claim that it will be owner-occupied, the lender looks at your current residence and determines if it believes you'll occupy the new property. The lender compares the locations of the properties and the square footage, among other things, to decide if it's a logical move. If it feels you're buying another property to rent, it turns your loan down or asks you to pay a higher interest rate because it's going to be a rental property. Rental property loans also require larger down payments.
Liability
If you intentionally deceive the lender into believing the property will be owner-occupied to get a better loan, you could be held liable. Underwriters usually question your intent if they don't believe that you plan to live in the home. They may require you to pay a higher interest rate, provide a larger down payment and/or pay additional closing costs. They could also decline your loan. The burden of proof is with the lender — intent is all but impossible to prove. This is especially true if you move into the home for a month or two. However, this is a serious offense and is technically fraud.